Kenyatta University Students' Association is organizing a corporate visit to Uganda scheduled for 28th Sep to 3rd Oct 2017. Towns to Tour*: Kampala, Entebbe, Jinja...
Described by many as the 'new scramble for Africa', the US, China and other nations are attempting to consolidate their grip on Africa's natural...
You've spent so many years looking forward to this phase of your life. And it always looked so cool. So glamorous. So filled with...
Being a girlfriend / wife is not just about being beautiful and attractive for your guy. It's not just about letting him chase you, letting him...
Kenyatta University has fully implemented Kenyatta University Corporate Student Email on Google Apps for Education. All Kenyatta University students can now use University Corporate...
Late last year Kenya's hip hop music scene was thrown into one of the most controversial debates on who was the 'King' of Kenya's...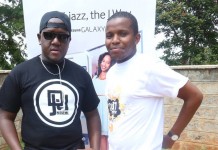 Campus icon is a project started by Amos Njeru - KU radio Presenter ,that aims at telling the stories of how they made it...