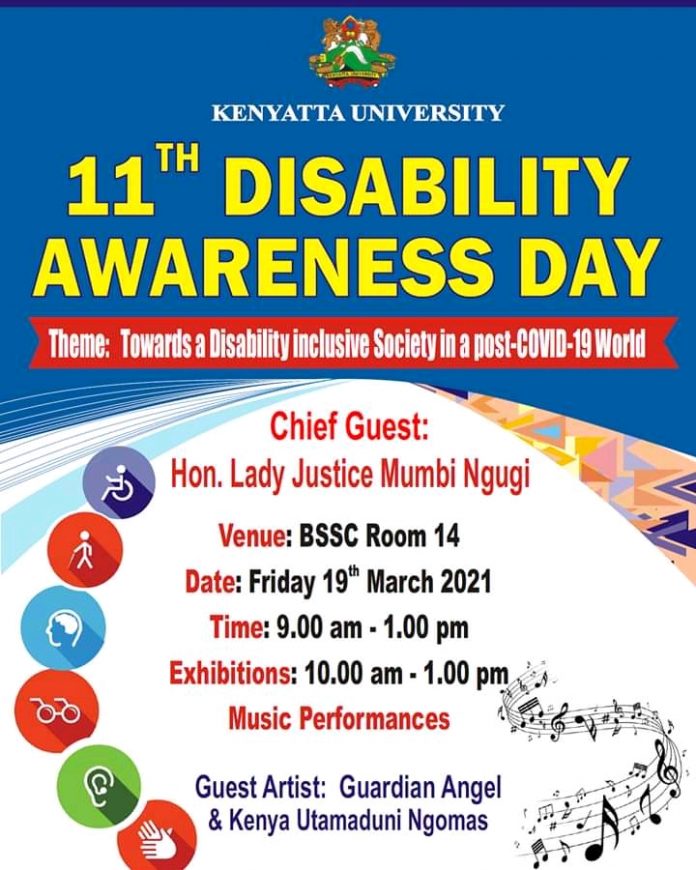 Kenyatta University is arguably the university that offers the best services for people living with disabilities in Kenya. In a bid to recognize and sensitize the university fraternity about disability, Kenyatta University holds a disability awareness day during the first semester of every academic year.
During the awareness day, several activities take place. These include shows, exhibitions, talents shows and speeches from various personnel. The event is normally meant to empower the disabled students and encourage them to keep moving forward while upholding their integrity and diligence.
Kenyatta University Administration partners with directorate of disability services and other stakeholders to make this day a success. Since the institution started holding this event, 10 of them have been held.
This year the event which is dubbed 'Kenyatta University 11th Disability Awareness Day' will be held on Friday 19 March at BSSC. The Chief guest will be Justice Mumbi Ngugi, a Kenyan Judge. Invited guests will be Kenyan gospel and dance hall artiste Guardian Angel and Kenya Utamaduni Ngomas-a music band.
The event will start at 9 Am and end at approximately 1 Pm. During the forum, Students are given a chance to showcase their different talents and skills and an opportunity to present their performances. The event is not restricted and is therefore open for any other groups willing to attend.
Kenyatta University is a word class university that seeks to transform lives by empowering young generations through education, entertainment and information. The institution seeks to achieve diversity through different activities aimed at improving the general well-being of the students.
The goal of this initiative is to empower students who are challenged in different ways towards achieving their goals in an equitable and fair environment without fear or discrimination.