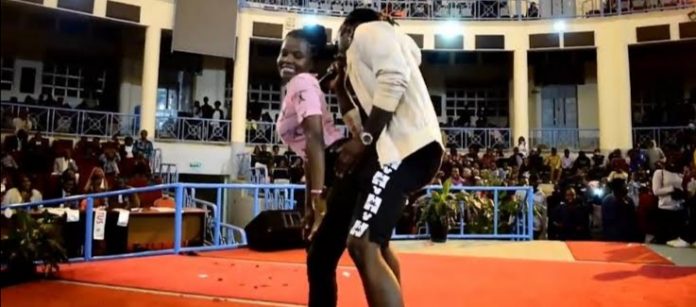 Most of the campus events are meant to expose students to the outside world and get them thinking outside the box. It is always good to learn something new whenever you are exposed to a new environment. This makes one develop a mechanism of adapting quickly to a change whenever it's due.
However, this kind of revolution doesn't just come to your room, if you want change you have to go out and look for it. You need to seize every opportunity that comes your way for your own benefit.There are campus events you should never miss out. Some are just meant for entertainment and socialization. Others help shape your behavior and character as well as change your mindset on various aspects, and achieve personal development.
Let's have a look at some of the events you should never miss for instance at Kenyatta University Main Campus.
Cultural Night Festivals
Cultural night celebrations is a special segment featured in the cultural week whereby students from different parts of the country are given a chance to showcase their cultural heritage. Each and every ethnic group is given a chance to perform on stage and give the onlookers as bite of their culture.
The event is incredibly a bunch of fun. Some of the activities there include cultural dancing singing, playing traditional music instruments such as harp and horns and spoken word. The winners of the competition are announced in the wee hours shortly before the crowd is dispersed. Purpose to attend these festivities to experience a taste of different cultures.
Opening and End of Semester Bash
A lot of work without play makes Jack a dull boy. In as much as education is the key purpose of being in school, life has to be balanced to avoid monotony and irrelevance. You cannot spend an entire semester in the classroom, it's next to impossible.
As such, at the beginning and end of every semester, the KUSA council organizes two parties, opening and end of Semester bash respectively. The first one is meant to welcome students back to school home and reinstall the school mood as lectures begin. The other one is a sign of celebration for a successfully undergone semester.
Mostly, Artists are invited to grace the events, for instance in 2019, the mwana mkunaji Willy Paul was invited to perform in one of the events. However not to mention the day ended as a nightmare to him as he was stoned chased away by violent students for accusations of robbing their written song and premiering it as his'.
These events are important as they bring comrades together apart from entertaining them, hence creating union and spirit of comradeship among them. Every beginning and end of semester make sure you attend these events to be entertained and socialize with other students.
The Mr and Mrs KU Competitions
The event is one of the most celebrated programs that features in the cultural week festivals. Here, both male and female students are given a chance to compete on who is the best fit within themselves.
The winners are then merged together to form the best couple Mr and Mrs KU who are then awarded.
For the ladies, some of the qualifications that are considered include the curves, dress code, height, fashion and of course beauty. For the gents, bargaining odds are the dress code, psychic, height and boldness. The event is usually held at night and one of the most colorful and entertaining, if you like having fun, never miss such an event.
Workshops, Forums and Seminars
Every semester, Kenyatta University holds several seminars, forums and workshops before the end of the semester. While some of them target specific groups, most are meant for the general KU fraternity and every student is allowed to attend.
Such events include the Ajira digital programs, Youth leadership forums, entrepreneurship talks and goal oriented workshops. One would ask, why should I waste my time attending an event that won't pay back? But are these forums really beneficial? Well your guess is as good as mine.
One thing you should learn is that for the most of the forums you attend, you are issued with a certificate which you can use to increase your confidence while looking for a job. Another thing is you achieve personal development and skills which can help you make good decisions and improve your reasoning capacity. You can as well utilize the entrepreneurship skills learnt to start and run your own business.
Theater arts
The Harambe hall of Ku is mostly dedicated for theater shows, dance competitions and other similar events. The Kenyatta University Traveling Theater normally holds its events at the Hall every semester. If you follow the group's activities closely, you will find out that you are missing alot of entertainment from those creative minds. The group is known countrywide for their electrifying performances whenever offered an opportunity.
Mugithi Nights
Mugithi is a very common name in Kenya, it is a kikuyu word meaning 'partying' or simply 'Party'. Almost every semester, there is a Mugithi night at Kenyatta University where renown kikuyu artists grace the event. Muratina – the favorite traditional drink from the house of Mumbi is served in plenty and comrades really enjoy. From instance the 2020 Mugithi night was held in March at Ku Unicity Mall and was graced by much celebrated Kikuyu Don Jose Gatutura. Although Mugithi is a word from the kikuyu, the event is not restricted to any tribal or ethnic lines. The event is open to all persons irregardless of their tribes or ethnic backgrounds.
Next time make an effort to attend any of these events, get entertained, informed and educated. Lastly don't forget the upcoming cultural week festivals in April 2021.