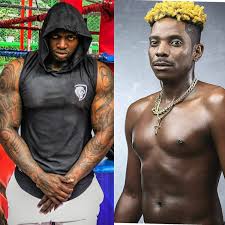 The long awaited Bomba Boxing Match between Kaligraph Jones and Eric Omondi went down on Tuesday 23 February morning at Kenyatta University Amphitheater. Things did not go as expected for Eric as he was knocked down in all of the three rounds that they exchanged blows.
In the first round, Eric seemed to be very aggressive and ready to face the OG and knock him out. However, Kaligraph remained calm and keen when Eric was all over him, jumping up and down trying to reach his blow to Jones. Surprisingly, the hip hop croon just hit once at Eric and in seconds he was dangling on the floor.The same case scenario repeated itself on the other two segments where Eric was mercilessly smacked and knocked down. In the last round, he was badly injured and could be seen lying on the floor with blood covering his face all over.
This comes weeks after Eric announced the Bomba boxing match that was sponsored by the Kenya Charity Sweepstakes, a gambling company in January. Since then, he has been ranting on social media how he will bash the Hip hop star early in the morning come the day of the match.He even went to an extent of purchasing a coffin that he would use to burry Kaligraph after thumping him in the long awaited fight. However, things went the other way and it dawned on him that in any case he was the one to be 'buried', he was digging his own grave.
However, this is all comedy and it is not the first time Eric is engaging in these kind of reality shows to promote his comedy and take it to a higher notch. In December 2020, he conducted a reality show dubbed 'Wife Material Challenge' which saw 9 girls participate. Controversial Kenyan socialite Shakilla was one of the participants. Her role was causing drama at the staged wedding between Eric and Carol of Band Beca, which was the climax of the Show. Carol was the girl crowned winner of the wife material challenge.
Eric has since announced the second episode of wife material challenge although he has not yet established the official launch date.
You can watch the boxing video in the link below