The charm behind this lady is far beyond just the physical at a glance. Introducing Miss Ku Rose Macharia, the current Miss Ku 2014-2015. When I sit down with the queen I am amazed at the simplicity of her persona with the illusion of a diva slowly fading away as we interact.
Having been a former tomboy in her earlier days the modeling aspect was shaped into her by the numerous fashion and beauty pageants on television every now and then. Rose participated in high school fashion days as a designer to her friends whose design always won. The friends are surprising also beauty queens in notable campuses around the country; Miss Egerton, Miss Karatina / miss Nyeri county/Miss TUK/miss Nyandarua County.
Rose's main agenda of getting into modeling came as result of wanting to change the public perception of models being blonde and ladies who can demoralize themselves to get what they want. She is a medicine student in her third year and juggling the toughest course and modeling hasn't been easy. Nothing comes easy especially when you have responsibilities of a student and being the face of the university.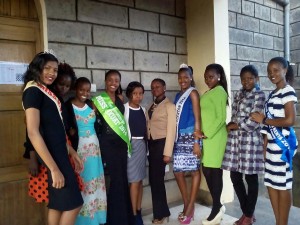 The road to Miss Ku title wasn't a smooth ride, with weeks of intense training daily working on the walk and the projects. Her project featured publicity about UTIs (urinary tract infections) a condition affect majority of the female perception. Through the previous administration, the project saw the elimination of bowl toilet seat to potholes in all hostels which reduces UTI infections to a great extent. This condition is perceived to be a STI but from a medical perspective, it's not sexually transmitted and guys should be supportive of their girlfriends if she has this self limiting, easily treatable condition.
Rose worked in the Equity Africa Leaders Program after high school, having being top student in agriculture countrywide and being top of her district and class of 2010, Karima Girls High School. It's this opportunity that gave her the spirit of independence with her paying rent and bills at a tender age of 16 and having to explain why she had an ATM card without an identification card. The corporate experience at Equity Bank strengthened this lady.
High school mentorship was her other m major project with rose travelling to vast places in our country to mentor young high school students both under Wings to Fly Program and personal invitations. She believes in imparting something to the future generation and her efforts paid off last year when eight of her mentees scored As and the rest five got Bs. Her mentees are currently on internship program at Equity Bank.
Her modeling aspect has seen her feature in Samantha's fashion show and the recently concluded miss university Kenya. She is the face of digital school and most of you will agree with me with the banner as you enter our new magnificent gate.
Her dislike is the fact that many ladies in the fashion industry go to such extremes to ensure bookings and contracts. Your value is your ticket to anything not your body, an important advice from Rose.
The journey will not be easy for those aspiring to join the industry with exploitation from agencies, haters constantly criticizing you, men hovering around you hoping to take advantage and trying to prove oneself to the world. God is the one person who has made this ride bearable and fulfilling for Rose.
Her tagline: Never compromise faith, dignity and self worth for money and fame because at the end of the day, physical attractiveness will fade away and the world will look for your worth.