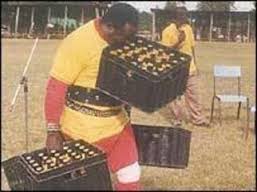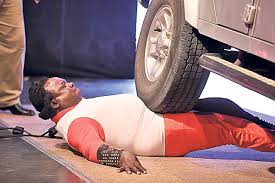 Barely has the African continent experienced such prowess exhibited by the legend Conrad Njeru Karukenya. Call him TIGER POWER, as he clearly bags such a weighty title for his mammoth ability to carry heavy weight on his body that most people regard as a death bed. The 69 year old iconic legend of our times is known for breaking six-inch nails with his bare hands and even teeth. He is currently hospitalized at the Kenyatta National Hospital for an ailment that the medics there say, would be surfaced only that TIGER POWER isn't in a position to raise sh 7000 required for scan on his body- which would amount to great mileage in his health condition.
From an interview with KUCOMRADES FORUM, the Kenyatta University student studying Early Childhood Education highlighted his plight for the past few months running down up to March this year about his health condition. He clearly stated that his life has never been the same ever since he contracted the disease that health officers at the KNH are yet to determine. '' There are a lot of things that I don't do nowadays. I feel the emptiness of my fan ever since I ceased entertaining them through my art of carrying weight. My joy would be to be back on my feet and meet my fans once again.''
The man who once endured the rubber of the tyre when a Land Rover would run over his inflated muscular body, now calls upon well wishers and immensely his fan base, to help him raise the tad amount required for his scanning. The students fraternity at the Kenyatta university students' affairs has started the campaign ''SAVE OUR SON'', which has been engineered by the Organizing Secretary Washington Shamela- who is also a close ally to Tiger Power. Hasn't he served the stated amicably good to earn the favor of the president in meeting his medical bills? Sonko rescue team should know about this.
For donations, call 0722175812 for proper direction and groups will be visiting Tiger Power in hospital at designated time. Your contribution to save our Kenyan son will be highly appreciated.