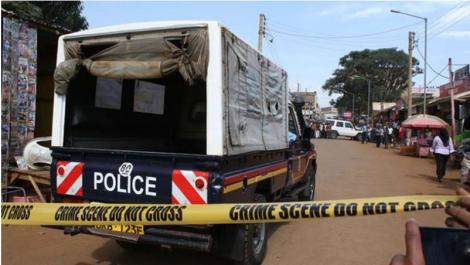 Detectives in Juja, Kiambu County, are looking for three suspects who murdered a 23-year-old university student in cold blood late Monday night before fleeing with his phone and other valuables.
Joel Juma, a fourth-year Industrial Chemistry student at Jomo Kenyatta University of Agriculture and Technology (JKUAT), was stabbed twice in the chest by one of the thugs before fleeing into the night at 2 a.m.
According to Juma's girlfriend, a law student at Mt Kenya University's Parklands Campus, she was accompanying her fiance to get some revision materials from his fellow students a few blocks away when the bloodthirsty gang accosted them.
The fiancée had gone to see his lover last evening around 6 p.m. and discovered him studying for his exams. She cooked a meal for them to share before they went to bed.
However, Juma later awoke and began working on his books, but at 2 a.m., he asked her to accompany him to a classmate's house a few blocks away to obtain a few reference materials that he needed before dawn.
Thugs attacked them near the hotel Lilies while they were on their way, demanding money and mobile phones. Two of them pounced on Juma with punches and kicks prior to stabbing him twice on the left side of his chest, leaving him in a pool of blood on the ground.
The 3rd assailant roughed up the lady who hadn't been carrying anything valuable and, thankfully, left her unharmed.
Local guards who noticed the commotion rushed to the scene and assisted Juma and his heavily shaken girlfriend to a nearby dispensary, where he was pronounced dead on arrival.
According to The Directorate of Criminal Investigations (DCI), who released this information to the public, "Detectives have discovered that associates of a notorious criminal gang that escaped the continuous operation to rid Kayole and Dandora of criminals have found refuge in Gachororo, where they are mopping up with the goal of establishing a fiefdom.
As a result, a massive intelligence sting to completely destroy the gang has been debuted in the area. The operation is being carried out by investigators from the Crime Research & Intelligence Bureau (CRIB) and the Special Service Unit (SSU)."
Source: DCI Kenya