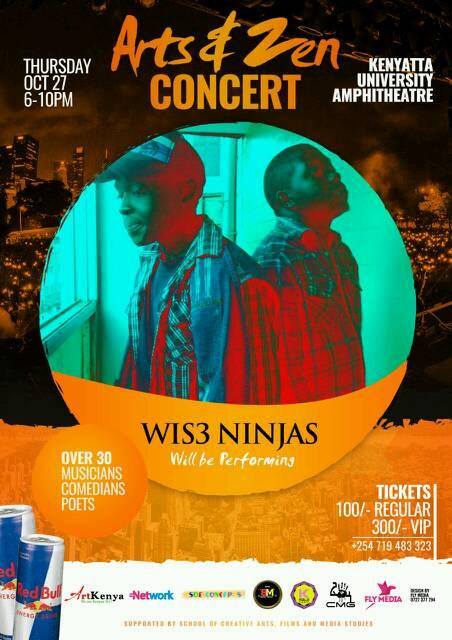 Arts and Zen are here showcasing international industry level performances and experiences.
They will be holding a  concert at Kenyatta University, on 27th October, Thursday next week to showcase the amazing talent within the university.
There is gonna be a wild performance from a number of artist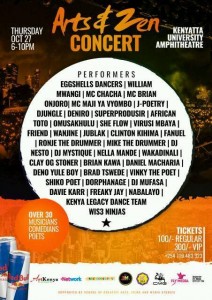 Djungle – Deniro – Virusi Mbaya – Dorphanage – Eggshells Dancers – Wakadinali – Jublak – Wanjine – J-Poetry – Fanuel – Clinton Kihima -Ronjey the drummer – Mike the drummer – Daniel – Humphrey – She Flow – Friend – Kenya Legacy Dance Team – Nella Mande – Brad Tswede – Deno Yule Boy – Freaky Jay – Nabalayo – William Mwangi – Clay OG Stoner – Vinky the Poet – Ronjey the Drummer – Shiko Poet- Brayan Kawa – Omusakhulu – African Toto – Davie Karr – Wis3 Ninjas – Kenya Legacy Dance Team
Crazy mixes on the Deck by mad selectors
Dj Mystique – Dj Mufasa – Dj Nesto
She show is really gonna be hypertized by the the hype beast and hype masters
Brian Onjoro – Mc Chaxy – Maji ya Vyombo
You really don't want to miss this its going to be firee.
GRAB YOUR TICKETS
REGULAR AT 100
VIP AT 300
Contact +254719483323 for Tickets.
Brought to you by Art Kenya X Kola Events Supported by the School of Creative Arts, film and Media Studies, Kenyatta University.