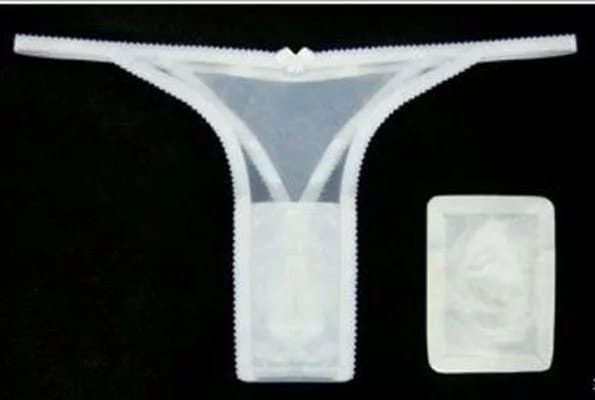 I have no idea why I was up at 2am skimming through social media pages . Look what I found! So there is a world female condom day? I had no idea! Did you? It got me as curious as I could get so I paid my good friend google a visit. My oh my, if I thought I was getting some sleep soon, that would have to wait. Are you a freak or just a normal woman on freak level zero? Well, I got news for you my sister! I'm tempted to use a smiley face there but I'll just let that slip away.
The latest innovation in town as far as reproductive health is concerned will either blow your mind away or leave you utterly disgusted. Enter the female panty condom. Who ever thought that lingerie and condoms could actually cohabit? I undersant that this new merchandise has hit Ugandan shelves in a bid to promote its sale. I wonder whe,or if it is already in Kenya. River road frequenters please help me! For as little as $5,you can be the proud owner of a pair of  this product(for lack of a better word) that is causing ripples of excitement among Ugandan women. Here is a brief description.
The panty like condom is actually a piece of undergarment that you can wear all day. It is just like a normal panty that comes with a prelubricated polyurethane pouch that is actually the condom,additional three condoms for subsequent use,a water based lube and is said to be ten times thinner than other brands in the market. I'm not done yet,there is more tea to serve. Apparently, it is anti-allergic and it allows change of position unlike pre existing brands.
I don't know what you liked about it so far but personally I like the wearable all day part, for security reasons. i'm not saying one should walk around in it anticipating rape but it's better to be safe than sorry. That is just my humble opinion.To quote the good doctor,
"The panty condom has a stronger material and allows for change of positions during intercourse unlike the current female condom on market.
"You can wear it all day and walk with it and when it comes for action, you don't have to waste time putting it on," explained Dr Moses Muwonge, the director of Samasha
Medical Foundation.
Guess what else I found out?Team Code Gurus( Jacqueline Namanda, the
graphics designer for the application, Esther Ndagire, the programmer, Pualine Nairuba, the team researcher and Maghi Nanyombi, the project leader) of Makerere university  invented a test kit connected to a smartphone app that can detect harmful vaginal bacteria that cause bacterial vaginosis.The test kit known as "Her Health BVKit" consists of hardware and a software application.
Nanyombi says the hardware is the actual test kit which connects to the smartphone app via Bluetooth. "By placing a urine or vaginal discharge sample onto the kit, pH values can be sent to the application," she explains. She says the app then interprets whether the user has healthy or unhealthy amounts of vaginal bacteria."If there are unhealthy levels of bacteria present, the application recommends that the user seeks medical attention and indicates where their nearest doctor or clinic is." I say Go! Go girl power!
I am a self proclaimed feminist so female reproductive health is definitely my cup of tea. Wanna try some?
That's all for now lovies,
Signed,
The Eccentric.