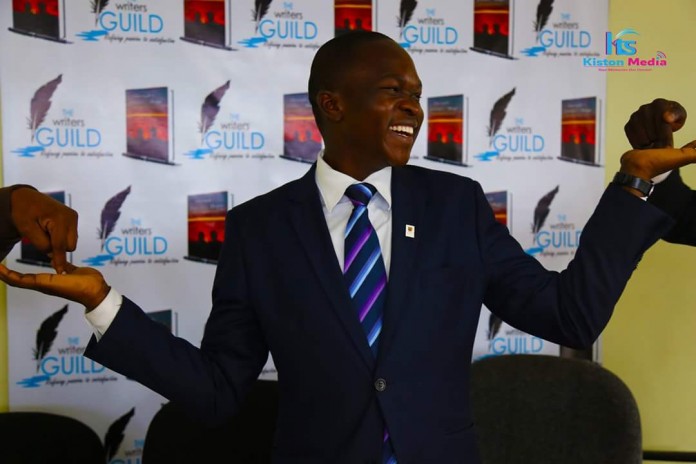 Synonymous with the phrase 'let's keep trying' is Gabriel Dinda of Writers Guild Kenya. he is known to many as the father of small writers and I for one acknowledge that. Here is this icon's in the making story. i couldn't bring myself to edit out anything. I hope you draw as much inspiration from his story as I did. Originally published by the amazing Juliamor Smiley.Thank you for letting me share your narration. Let's go!!
Gabriel Dinda: Here Comes the Father of 'Small' Writers
By Juliamor Smiley
A fifth born child in a family of six from Homa-bay County is the ever smiling and ambitious Gabriel Dinda. The father of budding writers and the CEO of Writers Guild Kenya.  Honestly, every time I meet Gabriel I get inspired before he talks. This is because of how he carries himself. If I told you that he is the father of budding Writers, you wouldn't believe me. That's until you meet him. I caught up with him in one of his ever busy days just to get a glimpse of what really drives this young man.
Who is Gabriel Dinda.
Gabriel Dinda demonstrates himself as a naturally passionate and motivated writer. He is an entrepreneur and a  father by all means to writers. He is a finalist Student of  Economics and finance at Kenyatta University apart from being the  Founder  of Writers Guild-Kenya and other projects.
He is a former pupil at Majiwa Primary School and St Joseph School,  Rapogi School . Before joining Kenyatta University in 2011 September, he has a short stint at Strathmore University as a Certified Public Accountant(CPA) Student, a course she dropped to concentrate in developing Writers Guild Kenya to international Standards which he keeps repeating.
When he joined Kenyatta University, he says that he knew very well that he was destined to do something great, but he didn't know which field that 'something' would be. It later turned out to be in the little known and neglected writing field.
The Motivation
Having been fully convinced that he was meant to do 'something' great, Gabriel started trial and error. He used his first HELB Loan to purchase a camera. So, he became a photojournalist. He mostly worked with clubs. He quotes Accounting Students Association(ASA), as the club which he majorly worked with. So, during their activities he would take their photos and thereafter get something ' small' from. This went on until he made a mistake. He made posters, and pinned in Kenyatta University inviting students who wanted the photography services to go to his room in Kilimambogo Room 43A. This was wrong. According to University policies, no business would be conducted in University premises. He was summoned at Security offices, and that frustrated his photography journey, putting this journey to an end.
During this time, Gabriel had another passion. He used to write articles on topical issues, and post in the notice board for students to read. Again, this was illegal as the University did not allow any unauthorized notice or article to be circulated to students through official  University Notice board. To avoid, what happened to his photography, he one day wrote about Careers and presented to Centre for Career Development and Placement(CCDP), for approval, before it was circulated. He met, Mr. Monari, the then administrator. He went through the article and liked it. He was asked whether he could be an Editor of Career Focus Magazine(publication of the office). He said yes, and the 'yes' started his writing journey. A journey, which today has given him a new name; Father of budding Writers! A father, at just the age of 22.
As an Editor of Career Focus Magazine, he was automatically entitled to represent the team in Career Week Organizing Committee. In the community, other qualities of this strict but ever smiling young man emerged. Innovation and Creativity. He came up with Career Week Ambassadors Program, an initiative which greatly increased awareness about Career Week, increased students welfare in relation to engaging with the office. The program has today been adopted by Kenyatta University through the office and is conducted annually.
Even as the Chief Ambassador, he still managed to continue with his writing passion. He wrote for a number of blogs including Capital Campus(Subsidiary of Capital fm). He became popular in social media and on the ground. For all the right reasons. He soon got other responsibilities. He was appointed the Founding Editor of Campanile Magazine, a magazine which he helped develop from scratch. In fact, the name 'Campanile' was suggested by him in a meeting with the Editorial team which together with his co-editor, John Muchiri had formed.
Other avenues of writing opened up including serving in other magazines outside K.U. Soon, his name became a household name. Gabriel Dinda.
In serving in such capacities as Editor and writer, he met a number of writers, most of whom trusted him with their writing. But was he a professional writer? Did he have the moral authority to comment on written pieces? No!. He belonged in financial sector, by all means.
As much as the writers trusted him with their writing, he too had his own problems. By then he had written a manuscript; Campus Confessions, which he had submitted to one of the publishers. In addition, he had been introduced to someone in one of the media houses. So, he used to write and submit to them. Of the two, there was something common in them; they both had nothing good for this 'small' writer. The publishers haven't replied till date. The media house used to reply him by way of publishing his story, but introducing someone else's byline. That wasn't good for an ambitious writer. So, Gabriel evaluated the three instances provided to him:young writers trusting him with their articles, publishers declining to get back to him, and media house short changing him and he made one conclusion; To start a platform, an outfit which will reply 'small' writers in time, help them grow, expose them and provide them with al they need to get the best out of their writing passion. So, what would this platform be? This is what would later be known as Writers Guild Kenya.
What is Writers Guild Kenya?
Writers Guild Kenya is a duly registered Company by registrar of Companies in Kenya. It recruits, trains, and help young passionate Writers grow their writing to a level of their satisfaction. It does this through exposing them to a number of platforms as stated below:
1.Passion Academy: This is a 6 Week classroom like training for Writers in a practical and intensive training. The syllabus is developed and approved by the best of professionals in writing in the world. The classes are currently conducted in KCA University, City Campus every Saturday
InterVarsity Passion Cocktail 'Party'-Writers require to interact, and engage other people from other areas to grow holistically. This is a monthly forum which brings different people who are passionate in what they do from different aspects of life to share, showcase and help each other grow.
All Senses Magazine: To Shade away the problem of small writers lacking platform of expression, this is a magazine and its corresponding blog meant to give 'small' writers a 'training' ground before they go out there to start their own. The link to the blog is: allsenses.writersguildke.com
Writing Mentorship: This takes the writers to detailed, personalized and keen writing mentorship. The mentorship involves exposing them to tutorials, competitions, etc with a view to growing them.
Corporate Magazines and Writing Solutions: At least, if you are passionate in something , the best thing would be to package it in a way that it can pay your bills. Upon training, Writers Guild Kenya opens employment to writers by forming strategic partnerships through offering writing solutions. So far, the Organization has done 14 Magazines ad offers quality-writing services to corporate organizations, persons of need, and international organizations.
Writers Guild Local Chapters: Writers Guild Kenya aims to 'devolve' its services by launching local chapters in Africa. So far, the organization has successfully launched Writers Guild of Kenyatta University, and planned to start 6 other chapters in a period of 1 year.
Challenges  experienced along  the way.
Gabriel declines to comment on any challenges he faced saying that' he would not wish to give challenges "too much airtime" since challenges are meant to grow passion.
Awards.
He was awarded as Top 25 Under 25 Entrepreneurship Award, 2015
He was also awarded as an Exemplary Leader by
Student Leadership of Kenyatta University in 2015 and Africa's Most Promising
Entrepreneur in Africa's Liberty & Entrepreneurship Camp in Uganda, 2014.
Future vision of himself.
" To be an Internationally recognized Centre of Writers offering quality writing and related services." That is the Vision of The Writers Guild Kenya which Gabriel has ensured is memorized by all the Management members of Writers Guild Kenya.
Parting short- " 2 Collosians 4:23: Whatever you do, work at it with all your heart, as for the Lord, not for Men.
Proverbs 16.3: Commit your works unto the LORD, and your thoughts shall be established.
 Contact Gabriel Dinda:
Email: [email protected]
Phone: +254716115189
Facebook/Twitter/IG: Gabriel Dinda
The Writer is a student at Writers Guild Kenya Writing academy. Her email is: [email protected]