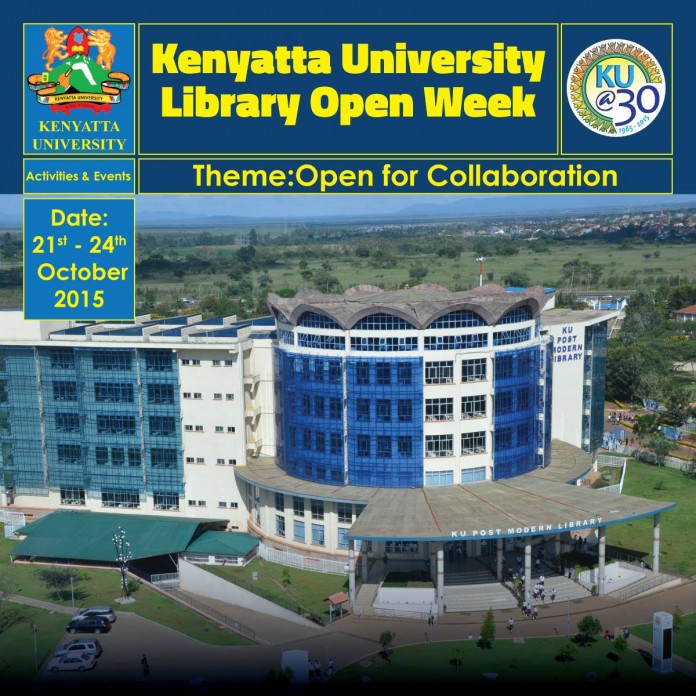 This year's K.U LIBRARY OPEN WEEK will ran concurrently with the Annual International Open Access (OA) week which will run from 19th – 25th October, 2015. However, the Library Open Week will run for 4 days with effect from Wednesday 21st – Saturday 24th October, 2015 at the Postmodern Library front precinct.
The International Open Access (OA) provides an opportunity for the academic and research community to share what they have learned with colleagues, and to help inspire wider participation in helping to make Open Access the norm in scholarship and research. It is annually celebrated by institutions and organizations in Kenya and across the world. This year's theme is "Open for Collaboration" in research and scholarly publishing.
Kenyatta University is already furthering this notion by encouraging staff to self-archive in the University's Institutional Repository for personal, institutional and global visibility as well as enhancement and overall advancement of scholarship.
During this period, the Library will showcase its products and services as well as provide an opportunity to all levels of the Library clientele to learn. The clientele will in particular be taken through the issues pertaining to information literacy such as searching the Online Public Access Catalog (OPAC), copyright, plagiarism, self archiving in the Institutional Repository, citation and reference management.
The Local and International Publishers and Booksellers, spearheaded by Kenyatta University Bookshop, will exhibit their information resources so as to boost information resources awareness to the University Community.