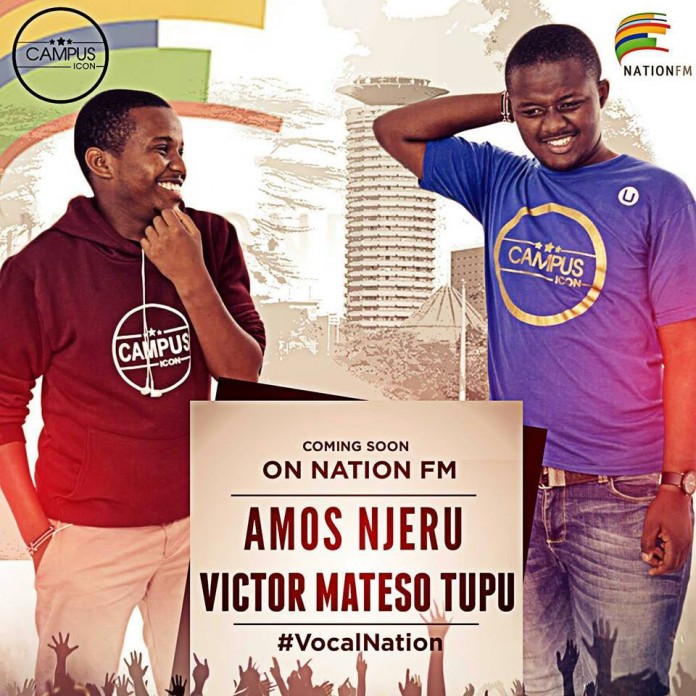 CampusIconOnKUFM's presenters Amos Njeru and Victor Matara are doing it big! This time – on national radio show: Vocal Nation on Nation FM.
The duo has in the recent past hosted quite the number of Kenyan celebrities – the likes of Avril, DJ Joe, Jua Kali, Nonini, King Kaka, Kriss Darlin – just but to name afew. Now, they have been nominated for their continued effort to host an ongoing campus radio presenters' competition on Nation FM labelled Vocal Nation. Follow their twitter hashtag: #CampusIconOnNationFM
You Don't Wanna Miss #VocalNation From 8pm-11pm hosted @amos_njeru & @victormatara#CampusIconOnNationFMpic.twitter.com/IwoGJchVOv

— Ghafla.co.ke (@GhaflaKenya) December 14, 2015
This does not come as a surprise as the two have managed to garner the attention of the Kenyatta University's Administration with posters of the show (#CampusIconOnKUFM) showing up on their social media handles!
To keep track of the show that's to begin today (14th December 2015) all through to Friday (18th Dec 2015), tune in to 96.3 Nation FM for all things Campus Icon! #CampusIconOnNationFM
Join their Facebook Group for updates:
https://www.facebook.com/itsonlyinku/posts/1022622731128570
Voting details will be shared in the group – so join it today! #CampusIconOnNationFM