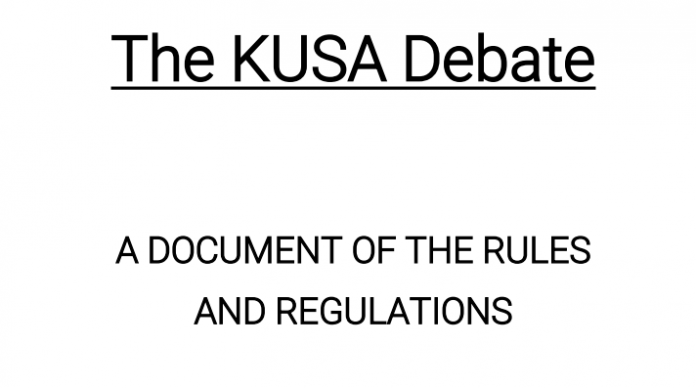 One group after the other, KUSA leadership has seen Kenyatta University students complain about finances and general leadership with the leaders quarrelling among themselves.
It did come as great encouragement when one of KU's finest, The Big Bill, as he's known online – created a whatsapp group that will see leaders share their thoughts concerning everything KU.
In addition, they and their close supporters will be given the chance to explain any uncertainties/questionable character pertaining to their use of funds and the offices they represent.
"Since allegations about our KUSA leaders have been in the limelight, I as The
Big Bill, an ordinary student, realised the need to thoroughly assess the people
who come to us, as students, to elect them into office."
"It is for that need that I created a WhatsApp group, that shall be governed by
this constitution in accordance with the constitution of the land and the union." – reads the constitution governing the group.
Download the KUSA Debate Constitution here: https://www.kucomradesforum.com/KUSA Debate Constitution.pdf
It is with this that has led to a new idea that I personally find revolutionary in our campus politics today. The KUSA Debate: a forum in which aspiring leaders will be brought to the bench and asked questions to the satisfaction of the students they so greatly want to serve.
The 1st debate of its kind is to be held tomorrow;
RE: INVITATION TO A DEBATE
——————————————–
The first debate shall be held on Friday, 29th July 2016.
The same is scheduled for 10PM and shall last half an hour.
Mirriam Mwende shall face Patience Mwende, for this particular session.
Aspirants are hereby advised to make themselves available, or forward, (to the chairman by Thursday 28th), the names of their PAs, who shall stand in for them in case they will be completely unavailable. Apologies about such absence be sent by Thursday 28th.
Instructions on how the debate shall be conducted will be posted on Wednesday 27th.
Signed,
The Big Bill
Ag. Chairman
I wish the two the best in their endeavors and encourage The Bog Bill to continue with his unmatched efforts to ensure our (students') interest!
If you're a leader or a supporter of one of the leaders simply leave your number in the comments below to be added to the group! (*terms apply :p )