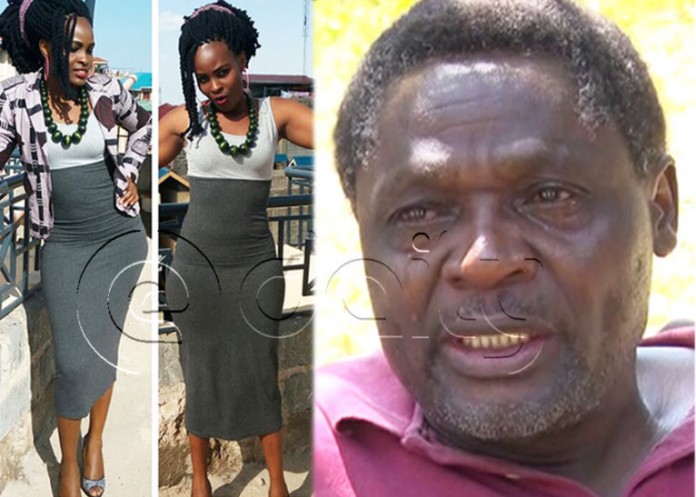 A somber mood has engulfed the family of slain Kenyatta University graduate who was fatally stabbed by her boyfriend at Kahawa Wendani in Ruiru, Kiambu County Monday, July 25.
Edinald Atieno Nyainda, was killed in a in a residential building near Nakumatt Supermarket after allegedly falling out with her lover, an ex-military officer identified as Maxwell Ochieng'.
Atieno is said to have had an argument with the man said to be 30 after she reportedly asked to end their relationship.
Ochieng' reportedly stabbed the 22-year-old Atieno ten times in the chest and neck before attempting to kill himself using the same knife.
Police sources said investigators found her body tied to a bed with ropes.
Speaking exclusively to eDaily at his Kadika home in Suna; Migori County, John Akello Nyainda, the father of the late Edinald Atieno, said he was shocked by the news.
He eulogizes his daughter as an intelligent and hardworking woman.
"Prior to joining college, Atieno would tell me: 'Dad, what I want is to get regular entry into the university because I understand the tuition fee for parallel programme is way high'." said Mr Nyainda.
Atieno, fondly referred to as Atwech Lady by her relatives, was the last born in a family of four siblings.
"My first born daughter studied in university under self-sponsorship programme. The second born, a son, also pursued a course in accounts under parallel programme, and same mode of education with the third born."
"Atwech studied at Ngege Primary School, before moving to Kadika Primary School where she sat for her KCPE. She later joined Ng'iya Girls High School for secondary education."
Mr Nyainda says he wishes his daughter had proceeded home to celebrate her graduation from Kenyatta University that happened in July 15.
"After graduating, she celebrated and stayed in Nairobi. She was to come home at a later date. If only she had come home immediately after graduation, may be the death could not have occurred. She has left a huge gap in the family. I used a lot of money on raising her and her siblings up," said the saddened old man.
With only memories left, Mr Nyainda recounts how he struggled to raise school fees for his daughter – and he refutes claims that have since made the rounds on social media that Atieno's boyfriend was the one who footed her college fee.
"When she was admitted in university under regular programme, I thought I was only going to pay tuition fee for the first semester. But I learnt I was supposed to pay university tuition fee for her study throughout the four years. We loved her very much; and not many are familiar with her names as inscribed on her birth certificate. Many referred to her as Atwech Lady. She was beautiful, slim and tall. Now she is no more. There is nothing much I can do."
Mr Nyainda says 'Atwech' had promised him she would construct him a better house after she completed school and got employment.
"Seeing a child complete education successfully is not easy. She was my hope – and I foreboded she would build me a permanent house after securing employment. We don't have a desirable structure here at home because I pumped all my money into educating her."
"What I'd say, there's nothing that happens in the world without God's knowledge. He knew that this man would lure my daughter into visiting him and then he would kill her. If my daughter's death wasn't bound to happen, God would have prevented it."
Atieno's uncle has urged the government to ensure justice is served.
When news broke about Atieno's death in Ruiru, a large crowd gathered outside Ochieng's house, baying for his blood. Ochieng', however, remained locked in the house, threatening to harm anyone who tried to gain entry.
Police lobbed tear gas canisters and sought the assistance of firefighters in accessing the house.
Ochieng, who had stabbed himself in the stomach, was arrested after a three-hour operation that saw police break the door of the room.
Watchman Evans Silange, said he heard noise at about 3:00am Monday. He said he called police after the attacker threatened him with a knife.