After a long wait for the unreliable water supply and power connections within the institution, students in Kenyatta University decided to hold a peaceful demonstration yesternight , which did not end as expected. For a whole week now, students have suffered a long sequence of uncalled for misappropriations on the supply of water and power connections. This is the sole reason for the demonstration.
A  day after, this only triggers more questions to bear with in the wake of proper supply of both water and power since last evening after the demonstration, which some dubbed as an unwarranted strike. Comrades finally got what they wanted a few minutes after the protest, which only resurfaces more questions. Could someone be at the hallmark of inhumanity to deprive students of what they need most to keep life on the going? Or even perhaps more worrying, what are the criteria followed to effect such long rationing to trigger the hearts of peaceful comrades?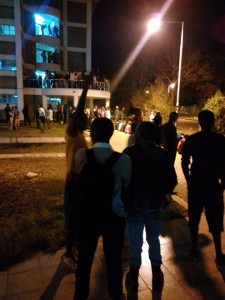 During the demonstration, which was not-all-that-peaceful, tuckshops within the school entity were broken into, window panes broken and some students even maimed during push-and-pull tag of war between students and  local law enforcers, where there was a heated exchanged of stones and teargas. Student leaders have however, not come out clearly to give any direction on the matter, which the secretary general should have cleared the air about it.
The situation within the university has now been restored to normalcy, with some counting losses and gains in equal measure. Comrades now have both water and power supply at their disposal.