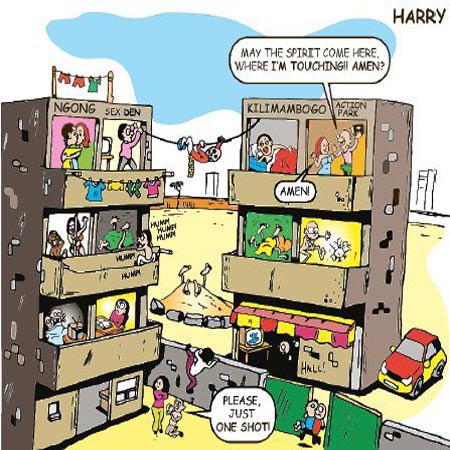 Some university halls of residence are notoriously known for promoting sexual immorality and spot check reveals that the trend is not ending soon. The halls continue to attract a growing clientele, both male and females.
Universities have taken steps to curb the menace. Egerton University plans to slap students caught fornicating or cohabiting with a fine. The same case applies for students who send others on 'exile'. Kenyatta University has been stern, ensuring that no student is found in hostels of the opposite sex beyond 10pm, or earlier than 10am.
Here's Kenyatta university's list of hostels that are notorious for cohabiting, casual romps and rape cases.
Nyayo 3&4, Ngong, Kilimambogo
The three hostels have been exchanging titles on which is deadliest.
Nyayo 3&4, which hosts senior students, leads the pack. It is not uncommon to see a guy straight from a 2pm class in OML accompanied by his classroom "girlfriend" for further studies that cannot be done anywhere else but his room in the absence of his mshamba fresha roommate. Only to escort her to her hostel in Usambara then pass by Annex for di herbalist's finest making sure to sweep a naive fresha who cannot locate where her undies are once she has a taste of some. He then escorts her to Nyayo 2 for "supper" after inviting his best friend from JKUAT who is just visiting and wants to show him how it goes down in KU and introduce her to the fresha's friend.
Kilimambogo has single rooms and is thus a good ground for students playing cha baba na mama. This one has some next level secrecy as most of these have learnt the art of over the years of being in campus. Lest assured they are no 1st/2nd years. I'll leave it at that.
Ngong, the infamous ladies' hostel in KU, hosts many men from outside the Campus. They have their cars parked outside — to communicate their presence and status. You'll have one room full of SDA faithfuls singing their hearts to the lord in preparation for Saturday and it being a Furahi day – the next door neighbor giving praise to a different kind of savior, the pocket-rich kind. She is yelling and cursing her lungs out as her financial savior does things unimaginable to her!