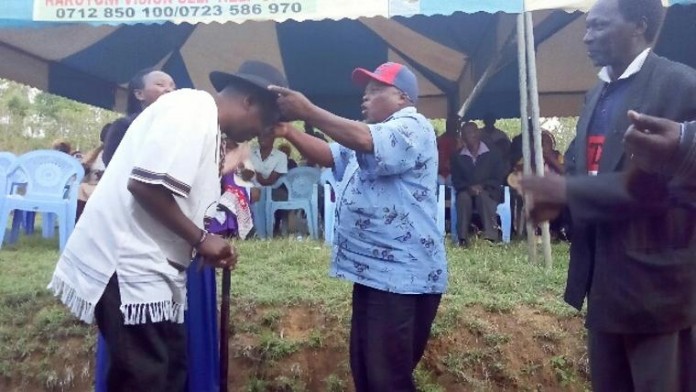 Thirty-eight-year-old medical doctor, Ancent Kituku, who recently announced his intention to vie for the Kangundo parliamentary seat in the forthcoming elections, has now received the blessings of the 'Akitondo clan.'
At a colorful ceremony that was presided over by respected elders of the clan under the leadership of Timothy Makau Musembi, parliamentary hopeful Ancient Kituku accepted the honor and declared he would face his worthy opponents with brave courage.
Dr Kituku's coronation ceremony at his father's Kawethei home in Kangundo West Ward effectively marks the beginning of a tough political contest that is shaping up in the constituency which is believed to be the candle of civilization in the entire Ukambani.
And being his first attempt, the Kenyatta University School of Medicine Don sought the blessings of his clansmen in line with Kamba customs.
A bull was slaughtered in his honor where men and women congregated for a symbolic feast of victory and spoke blessings for the youthful politician.
Dr Kituku's inner family cluster of 'Mbaa Soi' declared they had 'released their son' to face off with other aspirants who have declared interest in becoming the next MP for Kangundo.
"And by this ceremony, we speak blessings and declare that our own son here has all it takes to capture the Kangundo seat. As for us, we are committed to rallying our support to our warrior unto ultimate success," Chairman Timothy Musembi told a cheering crowd.
Dr Kituku was handed a Kamba traditional whip, a whisk and conferred a 'cowboy' hat as symbols of political authority. He then declared, "I humbly and wholeheartedly accept this great honor by you, my fathers and mothers, and I pledge to fight through your support to deliver power, leadership and ultimately great honor to you my great tribesmen," said Dr Kituku.
In his campaign meetings, Kituku has vowed to transform the constituency into a modern economy where education and infrastructure will be the hallmarks of his development agenda.