If you are social media (Facebook) enthusiast, then perhaps you have come across the Comrades Forum Group by the name: KENYATTA UNIVERSITY WE ARE ONE(COMRADESHIP). Well, if you have, this is the story behind the Group's administrator.He talked to K.U-Comrades Forum Team about his early life so far, his ups and downs and what he has been up to since he joined the university.
Below is the summary of the one on one:
Pete Kaugi: How about you start by telling me about yourself Amos,
Amos Onyango: Am brought up from a humble background as the only child. I love God I love serving others as part of my inborn, lost my parents 14 yrs. ago so ever since I have learnt a lot being on streets help me to know how to interact more
Pete Kaugi: As an only child, how would you describe your childhood?!
Amos Onyango: It has been so boring being brought as the only child, I grew up not knowing a lot in having siblings but again it was fun since I was the only child and the whole parental love was in me
Pete Kaugi: You're still the only child?!
Amos: Yes,
Pete Kaugi: Education…where did it all start?!
Amos: I went to Hills combined Academy in Migori when my parents were still there ,I did my KCPE got 359 marks.
Was called to St. Joseph school Rapogi Boys in Nyanza one of the best performing school in Nyanza, but due to high fee it was a challenge for me to complete my form 4 there so I was send away because I had fee balance of 64000/-.
So I went and joined a day school called Onyalo Mixed Day school. While at Onyalo I was selling chips on street during weekends to raise my fee .
Fortunately one of my customer's was a staff at Equity bank, she was amazed that despite the hardship I could raise cash for my fee.
Leadership and giving back to the society.I felt inspired mentoring Wings To Fly Scholars.
Then she told me to apply for Wings to fly scholarship, which I later qualified for, so Equity Group Foundation paid my fee from form 3 to form 4.
Even though never made it to the expected grade I wanted I thank God I managed to be part of Kenyatta University.
Pete Kaugi: Hard work does pay…that much you can attest to.
What would you say was your driving force during your primary school years?
Amos: Thank you for that, my driving force was the fact that I was the only child so there was much expectation from relatives also wanted to fill the gap of my parents
Pete Kaugi: How did this help you get through high school…with the given circumstances you were in
Amos Onyango: I gained courage through this more so God ,When I was down God uplifted me, so it help me get along since I had a dream that is to be the next leader of this nation
Pete Kaugi: You said during high school is when you had to shift schools?!
How did you / people around you take this transition?
Amos: Yah I had to shift since I had nobody to pay my fee, people around me were not that serious with my education especially my relatives. Only my friends and well-wishers could cheap in to guide me and offer some basic needs.
Pete Kaugi: So, what did you decide to undertake to help take care of yourself?
Amos: I was selling water on streets, I could even fetch water for some mama selling vegetables in order to earn a living, I could also cook fast food like githeri and sell to people working in building construction,
Above all this I could volunteer to help in sensitization of keeping environment clean, creating peace awareness and this made me meet great leaders who motivated me and advised me to keep on working hard.
Pete Kaugi: Quite the hustle…and this is when you met the equity bank sponsor?!
Amos: Exactly that is the time I met the sponsor
Pete Kaugi: How did you meet – the specific day's events
Amos Onyango: When I was selling chips on the streets of Kimaiga in Migori County I had an Equity staff called Wendy who was my customer .This was early May 2012.
Pete Kaugi: …you sparked a conversation with her?!
Amos: She was attempted to know my background "you are so hardworking I would love to know more about u" those were direct quotes from her
Pete Kaugi: Then what happened?!
Amos: She was amused and was almost shading tears but I love the encouragement she told me "you will succeed God loves you" she went and introduce me to the Branch Manager Equity Bank and when wings to fly scholarship was out I qualified though they were only picking the ones from primary direct but was in form 3 so they included me in their Equity Group Foundation program under USAID OVC
Pete Kaugi: Would you say this is what motivated you to work towards oneness regardless of one's background?!
Amos: To me a big Yes, because the lady was a kikuyu and am half luo half Abasuba so most of people who saved me were from different tribes, imagine a Kisii hosted me for 1 yr. when am looking for a place to stay.
What I can say is that irrespective of one's background meeting new people and coming together irrespective of tribes is the success of an individual
Pete Kaugi: That's true.
Then to campus…how did you land to Kenyatta University?!
Amos: Landing to K.U was another success story, I missed the cut off point narrowly, but from the far I came I had faith in God that one time I will join College not necessary a university, so I carried on with my job of selling chips and I saved ksh25000, Then to my surprise one of the busy mornings, one of my customers working for NIHF Had Daily Nation Newspaper and I remember it was Written Kenyatta University announces scholarship for OVS(Orphans and Vulnerable Students). The young man told me to apply for the scholarship he has feelings that I will be taken.
So it found when I had money, so I applied for the scholarship, though was doubting since this country is full of corruption.
I was happy to be shortlisted to attend interview at Ku this was in July. Then after interview we were told to go back will be contacted ,
A month letter I had a soft voice "Hello Amos am Purity from financial Aid office K.U, am pleased to inform u that u qualified for the scholarship.
I was so happy that's how I found myself at Kenyatta University.
Student's affairs matters.
Education Students Organization committee with the Dean school of Education
Prof.Fatuma Chege.From a meeting with her on issues affecting Education
Students.
Pete Kaugi: Wow! That must have been quite the milestone! This is when then you moved to Nairobi?!
Amos: Yah it was all God's mercy, yah moved to Nairobi
Pete Kaugi: What impact did moving to Nairobi have on you and what you believed in?!
Amos: Exposure, meeting new people from different communities learning some of the amazing language like kikamba, now how to dress, the social environment taught me alot. The social environment motivated me to interact more and listen to different people
Pete Kaugi: What have you been upto in K.U since you joined…as a person who wants to promote unity that is.
Amos: I love that question, First of all ever since have been in first year have been always elected a representive of not less than 3 units, this because of the service I give to students, I love serving comrades not necessarily my classmates,
Through this have always talk to them the importance of loving one another.
I created so many groups Facebook and what's app.
One of my Facebook group's is KENYATTA UNIVERSITY COMRADES WE ARE ONE(COMRADESHIP).
The aim of creating the group was to unite all tribes in K.U in Order to minimize this stereotype of" Tribalism will remain" Due to this hard work and selfless services I won the KUSA HONOURS AWARD 2014 for Distinguished Leadership.
Now to your quiz what am upto is to see Ku students united I believe peace and unity can be achieved once we love each other and I can represent student in archiving this as evidence from past records
Pete Kaugi: And how do you intend on achieving this?!
Amos: Oh! That's secretive but am planning to launch a program soon that will aim at creating awareness of being together, find out the source of disunity is it students or administration and find out the best way of dealing with this. I believe in dialogue.
Amos: Planning, also to bring all 47 county students under one umbrella. In every successful thing there must be a challenge so I believe that the challenges I will meet will get us the solution to disunity.
Pete Kaugi: That is going to be quite the challenge – but I know, with all that's happened, you WILL be successful.
The KUSA Honors awards…tell me about that.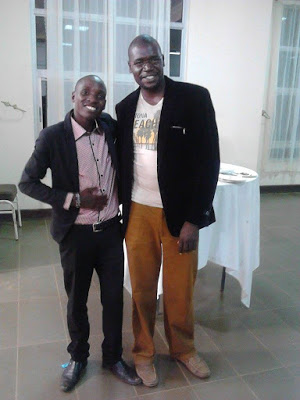 I have been inspired by the wise words of this script writer and actor of Mother-In-law of Citizen Tv.Mr.Charles (Patrick real name) Surely if you want to be like a king spend your time with kings.May God bless your work,your story is so touching.
Amos: KUSA awards I won a glass trophy for being best in Leadership of students 2014
Pete Kaugi: You mentioned you were a class representative for the quite the number of units. Does this mean that you're interested in leadership?!
Amos: Yah have not necessarily been a class rep only, am the interim deputy Secretary general of Education Students Organization, am the CEO and Co-Founder of a company called The Icon of Integrity, am a mentor to the Wings to fly scholars
Pete Kaugi: The icon of Integrity – what's it concerned with and how did you come about the idea
Amos: The Icon of Integrity is to nature young leaders of Integrity, Investigate corruption issues in campuses and as a whole nation, to do civic Education on electing leader's with Integrity, and also provide solution to matters of Integrity
We came up with this realizing the need that Kenya has so many corrupt individuals and with this we can minimize corruption and also do away with it with time
The company will be launch early December 2015
Pete Kaugi: So, do you believe corruption goes a long way to causing dis-unity?
Amos Onyango: Yah I believe so if we are corrupt no love can be there and so we are enemy of one another, corruption is the pillar of disunity, it can take long in expressing this from land grabbing, employment name them….
Pete Kaugi: How's campus life for you so far…and any last words to the students?
Amos Onyango: Campus life is awesome but again a 'destroyer' if you don't realize what you want to archive.
My greatest word is LOVE, Let's love one another and be as one, also respect to God.
Pete Kaugi: What's your parting shot line or quote that you use as a principle?!
Amos Onyango: My personal quote "An Obstacle is always a stepping stone"