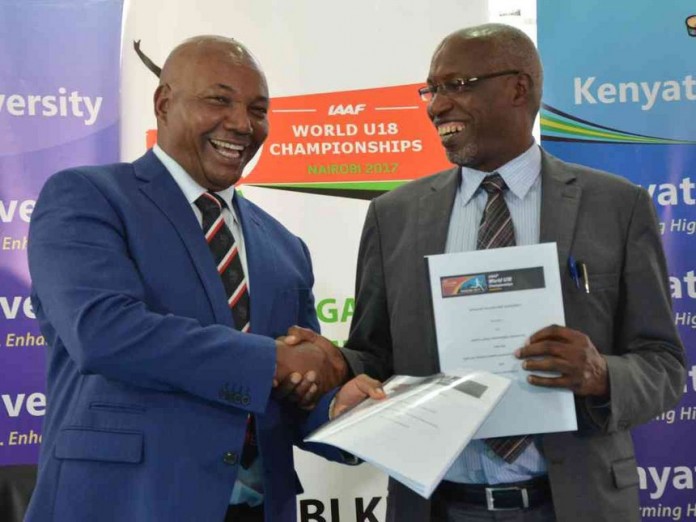 Local Organising Committee of the 2017 World Under-18 athletics Championships will give Sh700 million to Kenyatta University to upgrade the hostels and set up a warm track.
LOC chief executive officer, Mwangi Muthee, said he expects the upgrade of the hostels and warm up track to be ready by April 30.
Muthee was speaking on Wednesday during the signing ceremony between LOC and Kenyatta University at the institution.
"The ball is now in the university's court following today's signing ceremony and we must move with speed ahead of the championship slated for July 12-16. I am confident the university will be ready by the end of April," he added.
Muthee said they have identified 13 contractors to start on upgrade of the hostels, the Moi International Sport Centre, Kasarani and other infrastructure.
"Within the next fortnight, construction works should start. We have already identified 13 contractors to start work and by the end of this month, they should start working on the various projects for the championship," he added.
He said the hostels at Kenyatta will be upgraded to a three star hotel in accordance to the standards set by the IAAF. Muthee is confident of hosting a successful championship, which will bring together 2,500 athletes from 165 countries despite the slow progress.
" I am an advocate of following procedures and yes things may have been slow but every contract we are signing has to be scrutinised by the Ministry of Sports, Public Procurement Oversight Authority (PPOA) in conjunction with the Attorney General's office to ensure there are no loopholes and people don't engage in fraudulent activities," he noted.
Muthee said the goal of the event is to leave a legacy for posterity and future generations. "This event will be watershed for not only Kenyan athletics but also the country's sports in general," added Muthee.