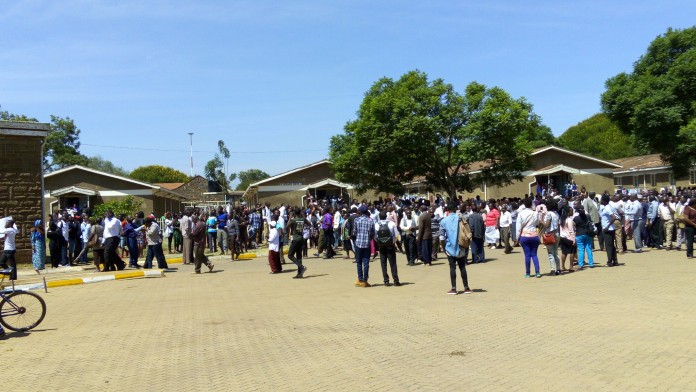 KU-Comrades Forum Fraternity has urged university students to send a message to their elected students leaders pressing them to step up to the growing lectures strike trend. At the same time, comrades has reached out to the Government of Kenya saying they are eager to be engaged in a thoughtful, meaningful collaboration to improve the Kenya labour laws for all its workers."We are urging our government, as the employer of our lecturers, not to carry out its quiet threat of using the notwithstanding clause to ignore the court's rulings, Instead, we are inviting them to have us at the table helping to creating a lasting legacy of fair, respectful laws for all working people of this country".
However, comrades have came up with a circular urging students to attend a crisis meeting. The notice reads: All comrades are hereby given notice and invitation to attend a CRISIS  MEETING to be held at 6:00 p.m. Kenyatta University Amphitheater, Tuesday, 31 Jan, 2016, Nairobi. At the Meeting, students will have the right to ask questions about the university, the university's association position and matters and proposals to be brought before Meeting.
This pursuits to Article 36 and article 37 of the Kenyan Constitution. on the fundamental rights and freedoms of association, peaceful assembly, demonstration and picketing.
PROPOSED AGENDA
1. Returns of Lecturers and normal resumption of studies
2. 100% Class Attendance
3.  HELB
4.  Finance Department Crisis
5.National Cohesion And Integration
The strike which has entered its 11th  day over seemingly irreconcilable issues with the Kenyan Government has left in its wake sorrow, tears and pain for countless hapless university students. Those who are lucky to be in school have continued to tell tales of woe and anguish. With the strike, universities have virtually been deserted; as some services have been totally withdrawn.
Meanwhile, both government and the striking university workers have maintained deaf ears to all pleas for them to reach a compromise. The striking lecturers have vowed to continue with the strike until the government do the needful.