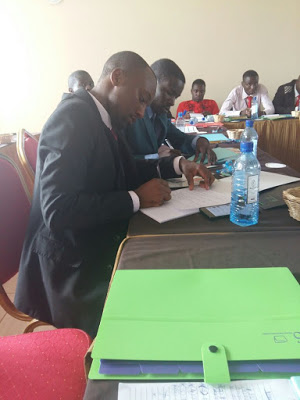 KUSA's Sec Gen Stephen Mwadime Taking Notes In The Ongoing Consultative Meeting with HELB
This is a press statement by student leaders from the ongoing Students Leaders' Consultative Meeting With HELB & The Ministry of Education that is expected to run till tomorrow at the Maanzoni Lodge (Lukenya).
We wish to register our disappointment at the direction in which the HELB workshop is taking so far. HELB together with the Ministry of Education organised a nationwide students' leaders meeting in Maanzoni and called us to attend only for Prof. Kaimenyi himself to turn down the meeting and send his P.S Belio Kipsang who has told us we should be happy he has attended.
As university students' leaders we cannot come to a meeting in Maanzoni only to be taught about entrepreneurship skills and witness the launching of commercial services called JengaFuture – a corporate project HELB is promoting for their own good, yet HELB and the government as a whole is unable to cater for our needs.
This far, we call upon Prof. Kaimenyi to attend our meeting before end of day tomorrow failure to which we will lead a nationwide demonstration compelling him to relinquish his position. We also call upon the President to ensure that basic needs like accommodation and funding to our universities are increased immediately to cater for the exploding students population.
Issues to Ministry of Education represented to Dr. Belio Kipsang.
First, students leaders are agitated by the deliberate boycotting of the very important meeting by Prof. Kaimenyi. We don't take him serious on academic matters for him boycotting such important gatherings.
Issues presented;
1. Funding; Younger Universities are inadequately being funded hence underdeveloped. Older Universities are greatly funded hence jeopardizing the growth n development of younger institutions. A better system should be initiated to normalize the finance allocations.
2. Curriculum; task force be reconstituted within 3 months to revise the curriculum, its too theoretical hence students ain't trained adequately. More technical courses should be structured n implemented to enhance the manufacturing industry.
3. Fee; Regular students should have uniform amount of fee they pay regardless of regional location. Students have complained on the fluctuations on the amount of fee paid by regular students across the country. The system should be streamlined.
4. Attachment & Internships; A bill should be structured so that every company/organisation MUST expand their capacity to absorb students on attachments. These companies/organisations MUST sign MOU with the Government to ensure adherence to the law.
5. Accreditation of programs; Registration of students Engineers by EBK has been monopolised by the Engineering Board. What's the role of the CS, Prof Kaimenyi t doing to ensure the separation of roles between University's Senate, EBK n CUE. EBK should have rational demands. Comrades feel sabotaged by the State.
6. Suspension/Intimidation of Students leaders. Students leaders were not happy with the suspension of students leaders by the administrators in their lines of duty. What is the ministry's take on that?
7. Students representation; Students' leaders must be members of university's council and management board so as to ably represent students in policy making and implementation. The ministry should structure a way forward to incorporate student leadership in the university's charter.
8. Funding for practicums; students' leaders challenged the ministry for forming a policy that makes students on attachment not get HELB funding. This is unacceptable and the policy should be amended or abolished all together.
9. Ministry as the Ex-chequer; the ministry has continuously frustrated HELB by increasing the quotient of HELB allocation. The recent move of HELB funding colleges students without satisfying the increased numbers of university's students, is straining comrades hence endangering the academic excellence hopes. The government through the ministry must increase its capitation to counter the increasing numbers. They must therefore also find a sustainable high education funding.
Issues to HELB:
1. The amount allocated to students is very low, KShs 37,000, it must be revised to match the cost of living. Students leaders pushed for the funding to be between KShs 50,000 -100,000. More so, the practicum money should n must be reinstated to KShs 12,000 unlike the KShs 6,000 at the moment.
2. The funds should n must be released to individual accounts a week to the beginning of every semester.
3. HELB should devise a way where the forms can be submitted online without necessarily present them manually.
4. The interest rate which is currently at 4% is not comrade friendly and is should be cut to 2%. Consequently, students should be fined by HELB a year after graduation but 2 years after graduation to give comrades time to settle down in corporate life.
5. Why is it that HELB only release loans after issuance of strike notices?
As presented and reported by Stephen Mwadime, Secretary to the Students Committee in Maanzoni and the Secretary General KUSA.
The committee was chaired by Erick Jomo, Chair JKUSO.
Statement by:
Jomo Erick – President JKUAT
Stephen Mwandime – Sec Gen Kenyatta University.
Goffrey Omondi – President Moi University
Bramwel Rotich – President Machakos University 
Alfred Chuchu – President Kabianga University
Rodgers Salgado – President Kisii University 
Angelina Omwamba – Sec Gen Egerton University 
Josphat Mwaniki – Academic Sec KU
Conelius Omuse – President Rongo University 
Victor Marende – JKUAT Sec Gen
Parting Shot: What's your take on the Students' Leaders efforts on fighting for student's welfare so far?!