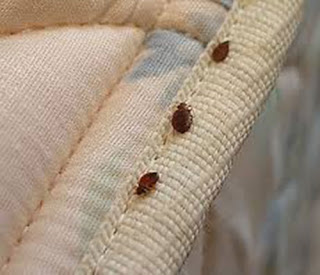 Bedbugs on bed Photo: Courtesy
Students at the Kenyatta University and University of Nairobi are having sleepless nights due to bugs. Kenyatta University's Nyayo hostels and University of Nairobi's prefabs are some of the worst affected. There are claims the bedbugs have become 'resistant' to fumigants, forcing students to air their bedding daily to keep the bugs at bay.
Some students have resorted to sleeping during the day, and staying awake during the night. Others spend the whole night playing computer games.
Most female students however have resorted to hot water treatment – pouring boiled water on to the beds, closets, desks, chairs and door hinges.
Recently, Kenyatta University imported a bedbug killing machines (4 of them) worth about KSh 2 Million from Germany. This has been in use this semester: the eastern wing of the school has been sprayed and Nyayo zone is next.
The institution also replaced wooden bed frames with wire mesh to reduce breeding. More strategies are put into place by both institutions and students believe that the issue will be resolved soon.