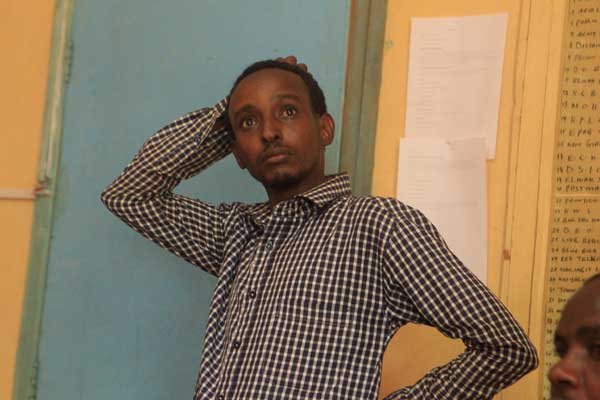 A second-year Kenyatta University student accused of causing a security scare by sending a false message alleging there was a terror attack at Jomo Kenyatta International Airport (JKIA) will remain in police custody for two days before being charged.
Abdi Rashid Khalif is suspected to have authored and posted a message on a WhatsApp group indicating there was a terror attack at JKIA on November 21, 2016.
In a sworn affidavit requesting the Mandera Law Courts to grant the Anti-Terrorism Police Unit (ATPU) time to investigate Mr Khalif, police sought 14 days to transfer the suspect to Nairobi.
He is to be charged together with other KU students in the WhatsApp group that generated the message.
"The respondent was arrested at Rhamu Town about 60 kilometres from Mandera while fleeing," states the affidavit by Police Constable Charles Mwita.
Mr Mwita states that Mr Khalif committed the offence partially within the jurisdiction of Mandera Law Courts and that the other accused persons are being held at the Directorate of Criminal Investigations (DCI) headquarters in Nairobi.
MESSAGE CAUSED PANIC
Mr Khalif is accused of posting the message in the group, called Digital Teachers, whose members are second-year education students at KU.
In the affidavit, police said the respondent alleged in the message that hostages had been taken by terrorists at the airport on November 21 at about 1pm.
According to the police, the message circulated locally and internationally, causing panic.
Police further say the matter requires forensic analysis, compelling them to move the suspect to Nairobi.
However, Mr Khalif denied authoring the message but named one Mercy from the student group as the person behind the message.
He asked the court not to allow the 14-day custodial orders requested by police, arguing that he is to sit his examinations at KU starting next week.
Mandera Resident Magistrate Dancun Mtai allowed the ATPU to hold the suspect for two days pending his transfer to Nairobi.
"The applicant is allowed to hold the respondent in police custody at ATPU in Nairobi for a period not exceeding two days," ruled Mr Mtai.
The magistrate observed that the offense proposed against the suspect is serious and, in the public interest, needed thorough investigations.