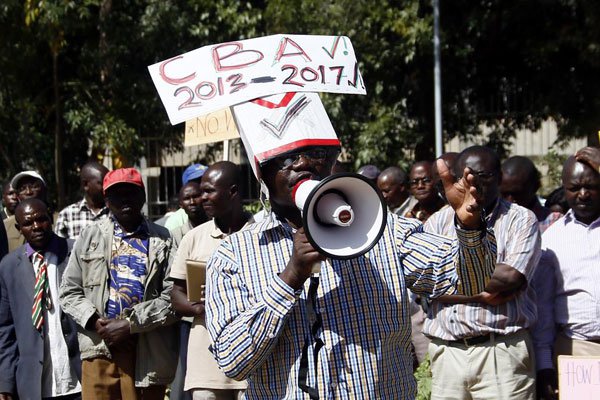 Public universities may suspend the current semester if the standoff between lecturers and their employer persists.
The lecturers have been on strike for over two weeks now, paralysing learning in all the 33 public universities and their constituent colleges.
Already, two universities, Karatina and Laikipia, have been closed indefinitely following the strike.
Normally, a semester has an average of 16 weeks and students are supposed to learn for 14 weeks.
Students have been forced to go without lectures for the last 17 days since the strike started.
Several meetings between the Universities Academic Staff Union (UASU) officials and the Education ministry have failed to reach an agreement to end the strike.
UASU secretary-general Constantine Wasonga has asked their members not to succumb to memos and threats from the government and university.
Administrators to resume duty, saying only the secretary-general can call off or suspend the strike, according to the constitution.
"Be not confused by memos from VCs, HoDs, Senates, desist from any suggestions to work, attend official meetings.
"Only participate in activities organised by UASU, beware of propaganda, fake news and disinformation and become an UASU ambassador, explaining the fierce urgency of this strike to colleagues and public.
"Become a part of this historic fight for the dignity of all Kenyan dons," Dr Wasonga said in a memo to their members.
According to Dr Wasonga, the Inter-Public Universities Council Consultative Forum, the body mandated to regulate lecturers' salaries and other allowances, has not provided a counter offer to meet their demands and, therefore, they will not end the strike.
Education Cabinet Secretary Dr. Fred Matiang'i on Thursday, during a negotiation meeting with UASU officials, assured public university lecturers that a reasonable collective bargaining agreement would be agreed upon.
Dr Matiang'i further said that a team from the Salaries and Remuneration Commission and the Treasury are currently working on counter offer scenarios.