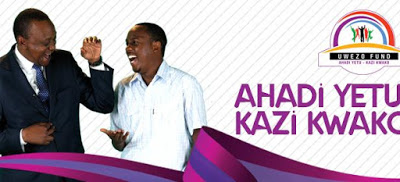 THE
     PRESIDENCY
MINISTRY OF DEVOLUTION AND PLANNING
UWEZO LOAN APPLICATION GUIDELINES
Pursuant of the Jubilee Government mandate of Youth and Women Empowerment, also as enshrined in the Constitution and Vision 2030, the Government of Kenya has planned to disburse KES30 billion in the 2015/2016 Financial Year Starting June/July 2015.
OVERVIEW
     The Jubilee Government has overhauled and expanded the Uwezo Fund to cater for more and diverse youths of Kenya, in line with H.E Uhuru Kenyatta's commitment during this year's State of the Nation address in Parliament.
     The funds shall be distributed both to groups and individuals.
     Further, the Uwezo Fund shall advance loans not exceeding KES50,000 to over 1 million Kenyan youths for the following (though not limited to) purposes
To start small businesses
To expand already existing small businesses
For high-yield farming activities
For group income generating projects
For student loans
For any other income generating project that is, (a) legal, (b) genuine, and (c) proper
GUIDELINES
1.      Applicant must be a Kenyan Citizen
2.      Applicant must be above 18 years old
3.      Applicant must be below 35 years old
4.      Applicant must not have another pending loan with the Uwezo Fund that is not fully paid
5.      Applicant must be willing to pay back the loan within 2 years from the time of receiving the same
6.      Applicant must be a law-abiding citizen
7.      Applicant must be living within Kenyan territory at the time of application
8.      Applicant must not use the monies in entertainment activities or other self-serving interests like gambling and alcohol
HOW TO APPLY
1.      You full name as it appears in the National Identification Card
2.      ID Number
3.      Personal mobile phone number and email address
4.      Your parents' or guardians' full name
5.      Home County
6.      Home District
7.      Home Division and Sub-Location
8.      Home Village
9.      Gender
10.  Level of education
11.  Complete CV
12.  Current life undertaking (student, worker, employed, jua kali, etc)
13.  The amount of money needed and the duration of payment (not more than KES50,000 / and payable in a duration not more than two years)
14.  A brief description of what you want to do with the money (not more than half a page)
All applications will be answered within three days after receiving by the Secretariat. When accepted, you will receive an invitation to outline the above requirements in much detail. Please keep it clear, brief, simple and straightforward.
N.B. Owing to the large number of applications we are handling, we request applicants to follow the outlined rules to the letter.
SECRETARIAT
This form is not for sale. You may download it, photocopy or print, and share with other youths. For more info on our activities, please visit our website: www.uwezofund.org
Download The Form Here