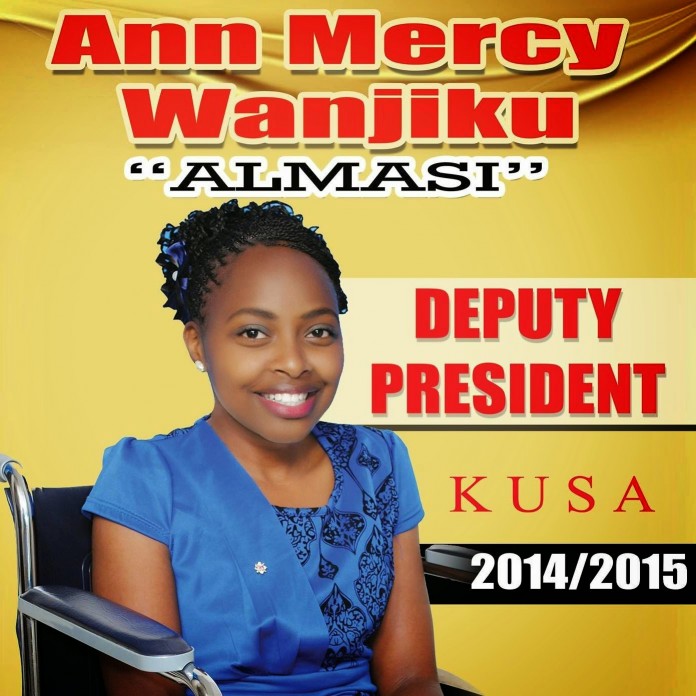 "The future rewards those who press on.I don't have time to feel sorry for myself.I don't have time to complain.I am going to press on"-Barrack Obama.
When I contacted her on phone on my intention to meet her for an interview, I was impressed by her reaction. Warm, but clearly indicating that her schedule was tight. Rightly so, a leader like her operates on a diary. Leading university students, a demanding degree in pharmacy at Kenyatta University, and the typical social life of youthful young woman, without a doubt a diary comes in handy.
The election to fill in the positions of leadership at the Kenyatta University students Association (KUSA) that took place on 17th October 2014 and the outcome therein is still a boiling topic in the institution of higher education corridors. Who won, who lost and who almost won. In those discussions, Anne's name, in one way or another has to come in. She is deputy president elect of KUSA. She left friends and opponents in shock. How a young woman, soft spoken, in a wheelchair won with a landslide is quite something.
In the wall of her room in university lies a large portrait of her."My friend studying arts made that for me", she tells me. I could fail to notice that most her items are made of bright colors. The walls with some graffiti which she tells me were thanks to the previous room occupant, a heap of books at the corner and a music system. There is a conspicuous wooden chair at the corner which she says it is her favorite place to sit.
"How were the elections?'', I nudge. She sighs. Deep in thoughts. She tells me that they were not easy but she made it nevertheless. University student politics in Kenya are a fair representation of the national politics. Tribalism, propaganda and the need to dish out money are prevalent. She was prepared for all that and diplomatic at it.
With a think tank for the line of attack and the foot soldiers, she was in no doubt.
Her opponents run a propaganda machinery targeting her disability and purporting that she was eyeing for the sympathy votes. That was far from the truth. "Surely my job description is so core in any student's life that they would be wrong to vote on basis of sympathy. I am directly involved in Accommodation, Catering services and security.They voted for because I have a proven track record and they have faith in me", she states.
In the previous academic year she served as the special needs secretary in the executive. Bringing the interests of those with the special needs to the forefront. How did perform? Exemplary. Under her reign she achieved a lot. She was able to bring a disability policy for the school. "Before that, disability services were treated as favors and goodwill from the officers. But it was imperative to have them on paper."
She is also the brain behind special vans that take students with mobility problems around the school. The vans are a phone call away and are free of charge. Collaborating with the university's culture week team she was able to introduce the Mr and Miss Disability pageant in the university.
Anne Mercy was born in 1991 in Nyeri highlands, in a family of four, a place one journalist in Kenya once described as "a place of honey and milk". Her acquaintances pet her by calling her Almasi. She went to Nyeri Moi Complex primary and as she was transitioning to high school the worst happened.
She was involved in disastrous road accident. She was severely injured. The rest of her family members in the accident sustained injuries. This not only led to her being hospitalized for three months but left her with permanent paralysis on both feet.
The life of the little girl changed forever. Her family was very supportive but it was not easy. She was depressed, and it took so long to reconcile to the fact she might actually never walk for the rest of her life.
In Temple Road High school she rebuilt her life and that was where she regained her confidence and discovered her "leadership gene". She was a class prefect, a head girl and a public speaker.
In her new role as KUSA's vice president, her manifesto is plain. To tackle the perennial problem of accommodation by liaising with the stakeholders for construction of new hostels and renovation of the existing ones, to ensure the cafeteria machines are up and working all the time, and most importantly to empower fellow female students."Women leaders are too few in the executive", she adds.
Our interview is interrupted by movements of students who come in and out of her room. To pass regards, others congratulating her for the fresh triumph, while others "just want to see how she is doing". Joining national politics is not one of her immediate plans as she would like to practice pharmacy after university. But in the long-term future she says, "you never know".
Her advice to fellow disabled young women is to unite and share challenges and successes but also she feels that they should be notable professionals in their different fields. When I ask her the one person she would like to meet in her life, she looks at me, makes a face, then asks ,"only one person?"I get the joke and I tell her to give two. Nelson Mandela and Barrack Obama are her two choices.
As she sees me off towards the gate, I cannot fail to notice that she is a woman of the people. Others wave at her from a distance, others running towards her for a handshake, others a warm hug while others smile in acknowledgement.
Her Contacts:
Facebook: Facebook.com/annmercy.wangeci
There is no easy walk to freedom anywhere, and many of us will have to pass through the valley of the shadow of death again and again before we reach the mountaintop of our desire"-Nelson Mandela