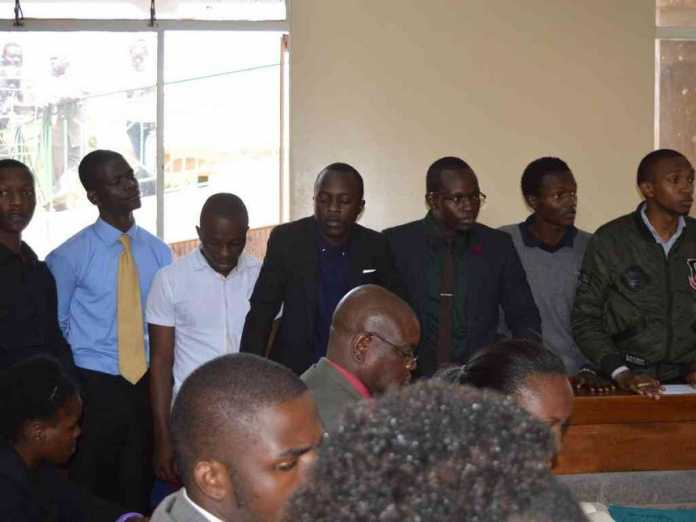 Seven Kenyatta University students were charged on Tuesday with setting a fire that destroyed the institution's property worth Sh89,889,564.
They are David Amisi, David Morara, Dominic Orwa, Eric Mutuku, George Nguru, Trevor Agoi and Victor Wafula.
They were also charged at a Kiambu court with maliciously damaging other property worth Sh13 million.
Before senior principal magistrate Stella Atambo, the seven denied committing the offices on November 16, 2017 at the school's old administration block.
While making their own submissions, the accused asked the magistrate to consider their status as learners.
They also noted they had never been to court and that the confiscation of their phones by the investigating officer amounted to infringement of their privacy right.
The phones were taken away for analysis following suspicion that the students used them to incite their schoolmates.
The students, who were arrested on January 9, will be held at Kiambu police station until Thursday, when a ruling on their bond application will be made.
University lawyer Dennis Mwathe requested the court to bar the suspects from the school should they be granted bail. He also said they should be restrained from posting any inciting material on social media and report directly to the investigator if need be.
"They are a danger to other students so the court should determine their bond terms based on the charges," Mwathe said.
On Monday, Kiambu principal magistrate Justus Kituku said the application by the suspects' lawyer, to overturn his ruling and release them with or without conditions, did not have sufficient grounds. He said the investigating officer had a right to complete investigations.
Lawyer Harun Ndubi had noted that his clients could stay away from the university and give police information related to the matter.
He added the investigating officer infringed on their rights by confiscating their phones and taking them to the cyber crime unit.
This was in contempt of a court ruling for the phones to be given back to the suspects; the court ruled that taking them away was against their right to privacy.
Ndubi had also argued that since no DPP is in office, the investigating officer should not have used a lawyer to ask for more time to complete investigations.
Kituku said Ndubi's argument regarding the director of public prosecution could not hinder investigations. He made the remand ruling last Thursday.
Last November, KU was closed indefinitely after a night of unrest. Students burnt the old admission block to protest against newly elected student leaders.