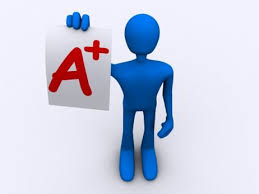 So it happened behind our back? It is enraging how our sons and daughters warmed chairs to write long compositions about corruption while they played the better part of it. While all the corrupt acts occurred and recurred behind doors, no one went behind bars. What did you expect from a country where an examiner, the marker, and the student both walk and talk corruption? They form the epitome, the origin and the roots of corruption. Don't forget so fast. It goes back to the mid-year when plethora of schools were set alight. It all started when KNEC was dismantled. Kenya, courtesy of the God-sent technocratic Minister Fredrick Matiang'i, is in a mission of making Grade-A great again. Amedeo Avogadro and Charlse Einstein thought we would read,understand and appreciate their efforts in science, only to copy and paste.
While we complain of job shortage employers complain of insufficient equipped personnel with adequate skills. What do we gain as a country in getting a mass of fake-As and end up having the poor quality personnel? Perhaps you didn't realize it, it was prophesied by few individuals that KCSE results would be peculiar following the odd KCPE results. There is a bunch of elusive questions that seem rhetorical but no, they are answerable, by you! Some Kenyans knew it while it happened whereas others fully participated towards achieving a "successful corruption". We are not suffering job shortage, we are suffering skill shortage.
The rise and fall of the Kenya Education System is as a result of Kenyans themselves. Did you know that the exam leakage affects each Kenyan directly? The shock that Kenyans underwent simply reveals that they were ignorant of what actually happened behind doors. The source of half bake graduates was exposed. What's your comment on a cook who cooks his food and complains about it? Similarly, this is how the Education System in Kenya runs. I pity my country where half-baked graduates mentor cheating students causing fake results that yields unskilled manpower.
"You don't need A's to achieve your dreams in life and if anyone thinks that then that is the the second stupidity you have", Prof.Magoha, chairman KNEC, said critically. It's a new dawn in the Kenya's Education System. Henrik Ibsen foresaw the core challenge of making tough painful decisions when he noted that "A man he who stands alone, is the strongest man. Felicitations to this man Fredrick Matiang'i, the Moses of this land Kenya. We are heading to Canaan, no more Egypt.