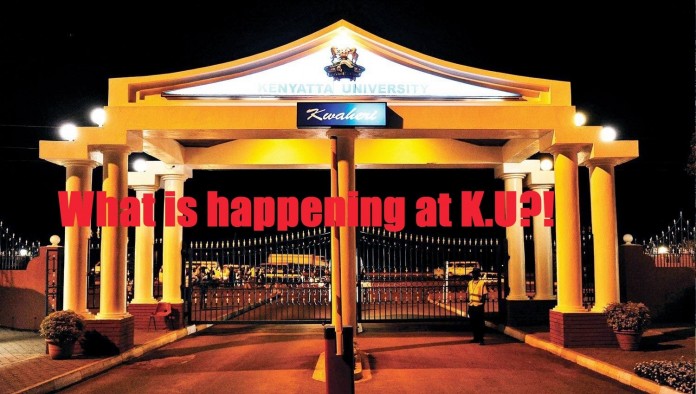 These messages have been going around as rumors on K.U security tension grip comrades' attention: 

[22/04 20:44] STEPHEN MWADIME: The whole Nrb County is on high alert and security has been beefed up all over. In KU is even more beefed up following today's threats.
[22/04 20:47] STEPHEN MWADIME: They were saying unless Kenya withdraws troops from Somalia, KU will pay dearly
[22/04 20:49] STEPHEN MWADIME: There was only one leaflet seen today. No cause of alarm we have taken everything into consideration
[22/04 20:54] STEPHEN MWADIME: Uniformed police are already within KU.
[22:50, 4/22/2015] +254 72* 1398**: Tension in KU as weapons n explosives discovered in Longonot blocks
[22:50, 4/22/2015] +254 72* 1398**: Student in the library were forced out and the library shut immediately. However police are all over, with sniffing dogs but still tension is high as students iniatially staying in hostels seek alternatives.
Well, here's the OFFICIAL SECURITY UPDATE from the relevant K.U authorities:
KENYATTA UNIVERSITY STUDENTS ASSOCIATION.
OFFICE OF THE SECRETARY GENERAL.
INTERNAL MEMO.
TO: ALL KU STUDENTS.
FROM: SECRETARY GENERAL.
Dated: 22/4/15.
RE: SECURITY THREAT.
I wish to assure Comrades and the entire KU community that their security is guaranteed despite the ealier threat through a leaflet on KU attack.
We have beefed up our security in and out of campus. We are on top of the game and there should be no cause of alarm.
We have uniformed police everywhere patroling, kindly coorperate with them, all this is to ensure ultimate security.
Additionally, i wish to inform you that, this is the official communication and treat information from any other quarter as
baseless and void. The popular blogger Robert Alai ealier
posted that Comrades have been evacuated from KU, that
is a lie and it should be treated
with the contempt it deserves.
KU is safe and Comrades
safety is our No. 1 priority.
May God bless you all.
Kind Regards;
Stephen Mwadime.
SECRETARY GENERAL, KUSA.
To my fellow comrades:
Please spread the word, such rumors should not be spread with no basis! Ama wewe unaona aje?!