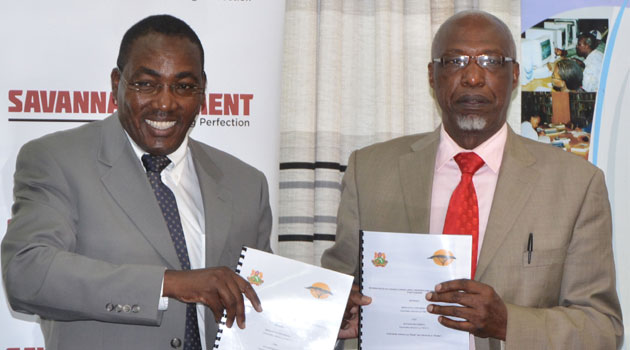 Local Cement manufacturer Savannah Cement has sealed a collaborative agreement with leading academic development institution, Kenyatta University on Tuesday.
The agreement will provide a collaborative platform for the two organisations to engage in joint research activities, innovation, student internship and capacity building among other areas of mutual benefit.
Kenyatta University to Partner With Savannah Cement
Speaking at the signing of the Savannah Cement/Kenyatta University Memorandum of Understanding (MoU) the Kenyatta University Acting Vice Chancellor Prof Paul Wainaina said the agreement is part of the University's efforts to forge a closer working relationship with the private sector on areas of mutual interest.
Prof Wainaina disclosed that the University has embarked on a strategic effort to nurture relations with private sector players to bridge the human resource development gap.
A collaborative working relationship with sector and industry specialists such as Savannah Cement, he noted, will provide Kenyatta University Graduates with the necessary hands-on practical experience to complement their academic skills.
"The collaborative agreement with Savannah Cement underpins one of our fundamental academic delivery objectives which seeks to facilitate practical research and work experience opportunities for our students," Prof Wainaina said.
On his part, Savannah Cement Managing Director, Ronald Ndegwa expressed the firm's commitment to participate in Kenyatta University's human resource development programmes by nurturing wholesome professionals.
As part of the agreement, Savannah Cement, he said, will provide the necessary support to accelerate Kenyatta University's academic and infrastructure development projects. Such support, he added, will be provided at Kenyatta University's main and satellite campuses.
"With the signing of this partnership with Kenyatta University, Savannah Cement is effectively extending an opportunity to facilitate homegrown academic and industrial research on mutual interest areas as part of our commitment to fuel the engine for innovation and economic growth," Ndegwa said.
Strategically, Savannah Cement aspires to be the cement manufacturer company of choice in the region and is actively engaged in Rwanda, Burundi, Tanzania, Uganda, Democratic Republic of Congo and South Sudan.
At Savannah Cement, both the Undergraduate and Postgraduate students pursuing various academic disciplines will be afforded access to a modern purpose built laboratory marketing and commercial management platforms.
The Kenyatta University Students undertaking Engineering and related studies will also enjoy practical experience in the running of a modern cement manufacturing plant that features the advanced roller press technology.