As a Kenyatta University student who – like most around – utilizes the available FREE internet connection made available by the school, then you have probably come across the 'EDUROAM WIFI' that pops up almost everywhere in the university. Unfortunately, you also know that this wifi does NOT connect to your computer. Well, here's something you probably did not know about this wifi!
What is eduroam?
eduroam (education roaming) is the secure, world-wide roaming access service developed for the international research and education community.
eduroam allows students, researchers and staff from participating institutions to obtain Internet connectivity across campus and when visiting other participating institutions by simply opening their laptop or phone with eduroam configured.
eduroam wifi is available in various strategic educational areas of Kenyatta University main campus.
Visit www.eduroam.org to find out more information about eduroam wifi.
Also Read >> Kenyatta University Placing 282 Wifi routers around the university!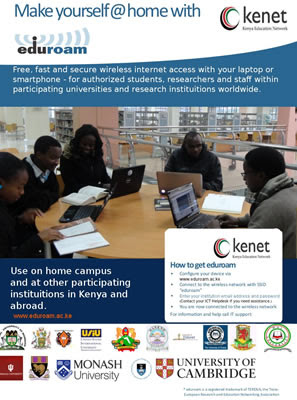 Visiting another institution?
If you are a student or member of staff and are going to another University that supports eduroam, you can connect to the internet there. eduroam wifi allows access at the participating institutions using the same credentials.
Visitors
eduroam wifi is available for visitors who use eduroam at their home institutions.
How to connect to eduroam
Before trying to connect to eduroam, ensure you get your login credentials from IT Support team [email protected].
It is easy to connect to eduroam. Just use one of our guides below.
Please note: you will be asked for login credentials.
Laptops and other mobile devices
Mobile phones
eduroam help and support
Please get assistance on eduroam wireless access from IT Support team on email 
[email protected]
 or