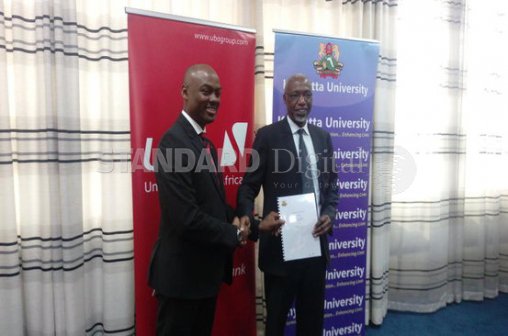 UBA Kenya Bank Limited and Kenyatta University have signed an MoU for increased cooperation between the two institutions.
KU students will get internship and mentorship opportunities with the bank under the University SWIP programme. They will also access affordable banking services as well as greater participation by the bank in KU social programmes.
KU students from West Africa will benefit from the partnership. They can now pay fees and access cash from their parents through UBA network in West Africa. Kenyatta University Ag. Vice Chancellor – Prof Paul Wainaina, praised the partnership terming it as timely.
"The increased admission of international students especially from West Africa and this partnership with UBA will be very beneficial for the students and their parents to pay their fees more easily," said Wainaina.
UBA Kenya CEO Isaac Mwige was upbeat. "As a bank, we remain committed to improving the way banking is done in Kenya and in doing so, ensure that businesses remain focused on their main goals, which is to deliver returns to their shareholder and positively impact their sphere of influence in society."
He added: "We look forward to participating in many of Kenyatta University Student Welfare programs such as their internship and mentorship programmes."