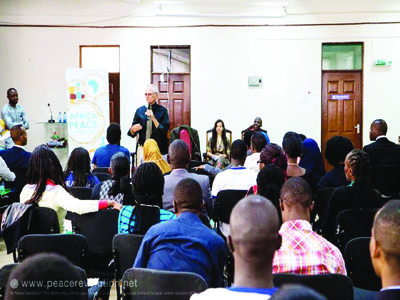 THE future belongs to them. To shape that future, some African youths gathered in Nairobi, Kenya, to find lasting solutions to the continent's challenges.
How to end the ethnic and religious conflicts stifling the continent's growth was the focus at the Africa Peace Summit.
The four-day event, held at the Kenyatta University, considered efforts to achieve sustainable peace.
In her opening speech, World Peace Initiative (WPI), Ms Worakate Thangsurkbul said peace was pertinent to the continent's development, noting that the escalation of its ethno-religious conflicts led to the summit. She said the body chose Kenya because of the country's forthcoming general elections.
She said: "This summit is the first of its kind to engage the youth. It is interesting to see many enthusiastic young people from all walks of life participating in discussions with the purpose of identifying key challenges and proferring lasting solutions to the conflicts ravaging Africa. I believe this peace initiative is one that can be leveraged on to engender peace and harmony in this endowed continent."
Sustaining peace, she said, is not a task that cannot be achieved. According to her, peace begins by respecting other people's culture, religion and opinion. She encouraged the participants to spread the message in their communities, saying: "Sustaining peace in our communities should be our paramount aim; if people have peace within themselves, they will, no doubt, give peace to others."
In his presentation titled: The role of media in peace building, Daniel Nwaeze, a participant from Nigeria and the representative of the African Youth Movement, urged media practitioners to strengthen gate-keeping mechanisms to prevent the propagation of messages that could divide people.
Nwaeze cautioned participants on the use of social media to spread hate messages, advising them to use online social platforms to end conflicts and promote peace on the continent.
He said: "If terrorist groups can use social media for terrorism and violent extremism, youths can use it for peace building and counter-terrorism. The media can shape the people's perceptions and energise them for action. It is important for the media to key into this initiative by dishing out contents that promote peace. It should also prod governments to take actions to forestall breakdown of law and order."
Since religion is another major cause of conflicts in Africa, there was a session featuring red religious leaders, such as L.P. Pasura, a monk, Mohamed Diini, an Islamic cleric, and Selvam Sahaya, a Catholic priest.
In their lectures, they agreed that the concept of religious spiritualism, which enjoins adherents to be non-violent, had been relegated and rendered useless by extremists.
Religion, they said, is a vehicle for peaceful co-existence and mutual respect. They said conflicts arise when extremists try to impose their religious views on people who do not share their ideas. They asked that spiritual essence of religion be brought back, urging religious leaders to galvanise their followers for sustenance of peace.
The keynote speaker, Dr. Umar Johnson, urged the youngsters to imbibe values that would make them good leaders. To lead Africa out of its woes, Johnson said the youth must work for peace and embrace progressive values. He urged the participants to see Africa as a single entity. The youth, he said must not leave the continent in search of greener pasture, noting that outsiders would not develop Africa for Africans.
Henry Molinge, regional co-ordinator of the WPI Foundation in Central and West Africa, described Africans as "one people". He said there were many similarities that made Africans unique.
He said: "There are similarities in terms of cultures and background that exist among us. When we get closer and take the time to know one another, we would appreciate this connection. In order to make peace, we should try to listen carefully to understand people's view point before concluding and not just being on the defensive. Tribalism and religious discrimination has not helped any country. We don't need to judge people based on their colour or the language they speak, but by the content of their character. "
Molinge said peace would be achieved if people start appreciating one another's differences. He said youths should prepare their minds to promote peace through the principle of meditation.
The highpoint of the event was the presentation of the African Peace Builder Award to Arielle Ahouansou from Republic of Benin. Arielle, a 23-year-old medical doctor, was recognised for her passion for grassroots education and progressive leadership.
She founded Refled Benin, a non-governmental organisation (NGO) through which she engages youths on leadership and knowledge. Her NGO has donated educational materials to 2,000 children through Illuminate Life project. The organisers said Arielle's passion for peace and knowledge sharing won her the award.
Speaking to CAMPUSLIFE, Arielle said her effort had paid off, thanking the organisers for the honour. She said: "I am grateful to God who permitted this victory. I am also grateful to that great community, especially to my fiancé who supported me and permitted me to win. It is a great sign of love and consideration. I am definitively aware of the fact that I have to give back to my community by investing in the community in order to help children experience inner peace. The award will renew my commitment to the effort to make Africa peaceful and progressive."