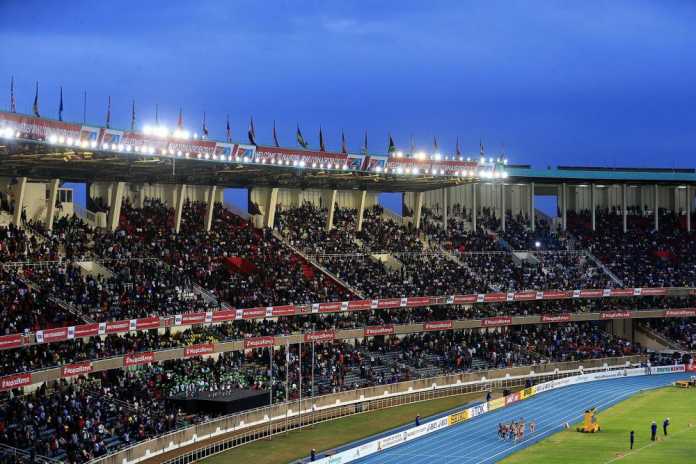 Ethiopia's middle-distance contingent spoiled the party for the host nation on Saturday, winning gold in the boys' 800m and girls' 1500m finals in front of a vibrant near-capacity crowd at Kasarani Stadium, on a spectacular evening session on day four of the IAAF World U18 Championships Nairobi 2017.
The penultimate session was attended by nearly 88,000 spectators – 37,600 in the morning and 50,300 in the evening – making it the best attended session of any age-group athletics event in history.
And while some finals didn't go all Kenya's way, the contests were thrilling nonetheless.
The boys' 800m contest evolved into a thrilling four-way battle in the final track event of the night.
After charging through the bell in 51.53, led by Japheth Toroitich of Kenya, the small lead group stayed together throughout the second lap.
While it seemed Toroitich might be able to hold on after his brave effort, Ethiopia's Melese Nberet delivered a late kick to take gold in a new U18 world lead of 1:47.12.
"The race was fine. I knew I had to kick in the last metres so I preserved my energy in the first lap," Nberet said afterwards.
His compatriot Tolesa Bodena also finished well, crossing the line in 1:47.16 to grab second place and secure a one-two for Ethiopia, with Toroitich holding on for third in 1:47.82, as both athletes clocked personal bests.
While Juan Castro of Costa Rica settled for fourth position in 1:49.76, he dipped under 1:50.00 for the first time in his career.
In the girls' 1500m final, Ethiopia again upset the host nation to the disappointment of the local fans.
Winding up the pace in a stunning final lap, Lemlem Hailu crossed the finish line in 4:20.80 after covering the last 300m in 45.00 to take the gold medal.
"I was sure of winning coming into this race so I just kept my focus," Hailu said.
"I'm very happy too have won Ethiopia a second gold medal."
Her teammate Sindu Girma delivered a superb finish to complete the race in 4:22.14.
Offering some consolation to the thousands of spectators who turned up to watch, Kenya's Jebitok ended third in 4:23.16.
Meanwhile, pre-race favourite Sokwakhana Zazini hit it hard from the start, dominating the boys' 400m hurdles final with a spectacular performance.
Holding the world U18 best of 48.84, which he set back in March, Zazini went unchallenged and stormed across the line in 49.27.
"I feel great because I've really been looking forward to this moment, and now it has come. I'm really happy," Zazini said.
"It didn't go exactly as planned because I had to change (my lead leg) but I couldn't. I don't know what happened.
"I wanted to break the world record again, but it's fine. I'll take it."
He finished well clear of Kenya's Moitalel Naadokila who grabbed the silver medal in a personal best of 52.06 to the delight of the crowd.
Baptiste Christophe of France took bronze in 52.21, and he too set a career record to earn his place on the podium.
A few minutes earlier, Zeney van der Walt had ensured double gold for South Africa in the 400m hurdles, snatching victory in the dying metres from Jamaica's Sanique Walker in the girls' contest.
The pre-race favourite, Walker led comfortably at the final barrier, which she clobbered with her lead leg and knocked to the floor in a battle with fatigue.
The error drained all her momentum and Van der Walt was able to chase her down, winning by just 0.04 in 58.23.
"I just kept pushing until the end because I had energy," Van der Walt said.
"I didn't expect to win, so I'm very happy."
Back in third, Germany's Gisele Wender came through strongly to set a personal best of 59.17 and grab the last place on the podium.
In another thrilling battle in the boys' discus final, Claudio Romero of Chile took the world U18 title with a world U18 leading mark of 64.33m.
After going in as the favourite, he had to dig deep to beat Ukraine's Oleksiy Kyrylin, who led with a third-round heave of 63.98m before being overtaken by Romero in the fifth round.
It was a historic day for Chile, with Romero securing the first medal of any colour for his country in the history of the IAAF World U18 Championships.
"Everything is just perfect today – a personal best and a gold medal," Romero said.
"I want to thank the wonderful people of Kenya. The atmosphere in the stadium is amazing."
South Africa's Morne Brandon was well behind the top two, snatching bronze with a last-round effort of 58.34m.
Continuing Cuba's fine run of form at these championships, Amanda Almendariaz stunned the favourites to win the girls' hammer title.
She unleashed a whopping 71.12m personal best, adding almost three metres to her personal best, as she set a world U18 lead and climbed to seventh place on the world U18 all-time list.
"I'm very happy to have won gold for my country and to help Cuba move up in the medal table," Almendariaz said.
Her closest rival was teammate Yaritza de la Martinez, who launched the sphere 69.79m in the second round for silver, and the bronze was taken by Belarus's Katsiaryna Valadkevich, who was unable to muster her best on the evening but managed to reach the podium with a 68.17m attempt in the fifth round.
Also producing a surprise, China's Tan Qiujiao recovered from an early foul, soaring to victory in the girls' triple jump final with a massive 13.64m effort in the second round. She added 46 centimetres to her personal best to achieve a world U18 lead.
Aleksandra Nacheva of Belarus, who went into the event as the favourite, tried her best to respond but even a career best of 13.54m in the fifth round was not enough as she took second place.
Cuba's Zulia Hernandez broke new ground to take the bronze medal, opening with a personal best of 13.29m.
Niu Chunge of China racked up a flawless series in the final to win the girls' pole vault gold medal.
Niu cleared six heights in succession with her first attempts, clinching the title with a personal best of 4.20m and adding five centimetres to her previous career record.
Lifting the bar to 4.30m, with the gold already in the bag, she was unable to make it over, but she had done enough.
Germany's Leni Wildgrube put up a fight for the top spot on the podium, successfully clearing 4.15m with her maiden attempt, but she was unable to match Niu's 4.20m effort and settled for the silver medal.
Anna Airault of France was unable to get over 4.15m or 4.20m, after carrying two of her attempts over, and she earned bronze with a 4.10m performance.
Six of the eight athletes in the line-up achieved personal bests, including all three medallists.